Tofu Taco
Serves 4
12 ounces firm tofu, drained and cut into 8 slices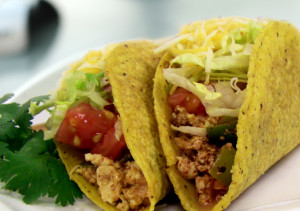 4 cups shredded coleslaw mix
1 small bunch radishes, thinly sliced
1/2 cup chopped fresh cilantro
1 bunch scallions, sliced
1 1/2 tablespoons extra-virgin olive oil
2 limes (1 zested and juiced, 1 cut into wedges)
1/4 cup nonfat plain Greek yogurt
Kosher salt and freshly ground pepper
1 tablespoon taco seasoning
8 8-inch whole-wheat tortillas
1/4 cup shredded part-skim mozzarella or pepper jack cheese
1/4 cup jarred salsa verde
Directions
Lay the tofu slices flat on a stack of paper towels; top with more paper towels, then put a heavy skillet on top to press out the excess water, about 10 minutes. Meanwhile, toss the coleslaw, radishes, cilantro, scallions, 1 tablespoon olive oil, the lime zest and half of the lime juice in a large bowl. Mix the yogurt with the remaining lime juice in a small bowl and season with salt and pepper.
Brush the tofu on all sides with the remaining 1/2 tablespoon olive oil and sprinkle with the taco seasoning. Heat a nonstick skillet over medium-high heat, then add the tofu and cook until it begins to crisp, about 5 minutes; flip and cook 2 more minutes. Cut into strips.
Toast the tortillas in a dry skillet, 1 minute per side, or wrap in a damp towel and microwave 1 minute. Fill with the tofu, cheese and slaw, then drizzle with the yogurt sauce and salsa. Serve with the lime wedges.
Per serving: Calories 481; Fat 19 g (Saturated 3 g); Cholesterol 4 mg; Sodium 537 mg; Carbohydrate 56 g; Fiber 8 g; Protein 22 g
"Chicken" Nuggets
Serves 4
1 14-ounce package of extra-firm tofu
1/2 cup bread crumbs
1/2 teaspoon garlic powder
1/4 teaspoon pepper
salt, to taste
1/2 cup water
Unwrap the tofu and shake off any excess moisture. Place the tofu in a freezer bag or wrap well in plastic, then freeze the sealed tofu for at least 24 hours.
The next day, thaw the tofu by placing it—unwrapped—into a microwave-safe bowl. Cover the bowl and microwave on high, checking every 2 to 3 minutes to make sure the tofu doesn't cook. Once thoroughly defrosted, gently squeeze out any excess moisture and cut into 1-inch cubes.
Preheat the oven to 350°F.
In a shallow bowl, add the bread crumbs and spices, mixing well. In a separate bowl, pour 1/2 cup of water.
Dip each piece of tofu first into the water, lightly shake off any excess water, and then coat with the seasoned bread crumbs.
Put the breaded tofu cubes on a lightly oiled baking pan and baked 25 to 30 minutes, until golden brown and crisp.
Serve with a dipping sauce such as sweet and sour or barbecue, or spicy mustard.
Black Bean Burritos
Makes 4 burritos
1 15-ounce can black beans, drained
1/4 cup salsa
1 cup cooked brown rice
4 flour tortillas
1 cup shredded leaf lettuce or spinach
1 tomato, diced
Combine the black beans, salsa, and rice in a saucepan and simmer gently for 3 minutes, stirring occasionally. Remove from heat, cover, and let sit for 5 minutes.
In an ungreased skillet, heat a tortilla until warm and soft, then spread a line of the bean mixture down the center. Top with lettuce, tomato, and more salsa, if desired. Roll the tortilla around the filling, then repeat with the remaining tortillas.
Black Bean Burgers
Serves 2
1 15-ounce can black beans, drained
1/4 cup diced and sautéed onions
2 slices multigrain bread, finely crumbled
1/2 teaspoon each of garlic powder, black pepper, and onion powder (optional)
1/4 teaspoon salt (optional)
1/2 cup cracker crumbs
In a large bowl, mash the drained black beans. Add the sautéed onions, crumbled bread, and spices. Mix thoroughly. Add about 1/4 cup of cracker crumbs (or just enough to be able to form patties from the mixture). Using your hands, form the mixture into 1/2-inch thick patties. For a breaded burger, gently coat each patty with more cracker crumbs.
In a lightly oiled non-stick pan, fry both sides of the patties. Serve with a garnish of lettuce, tomatoes, avocado, and any other condiments on buns or over a bed or rice.