Homemade Sausages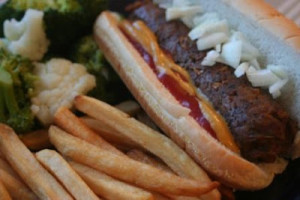 I know you are asking yourself Would this recipe be good, slightly grilled, and served with ketchup and mustard? The answer is yes. These are easy to make and taste way better than anything I can get at the store. The texture is freakishly sausage-like, and I was able to grill them on the BBQ after the steaming. This makes me think there is nothing these sausages can't do. I went crazy with the spicing: fennel, rosemary, sage, thyme, basil, oregano, parsley (and no red pepper flakes). Feel free to throw in whatever you want. Here is the  recipe  it makes 6 sausages.
 INGREDIENTS
– 1/2 cup pinto beans, rinsed and drained
– 1 cup cold vegetable broth
– 1 tablespoon olive oil
– 2 tablespoons soy sauce
– 2 cloves garlic, grated (with a microplane, or very finely minced)
– 1 1/4 cups vital wheat gluten
– 1/4 cup nutritional yeast
– 1 1/2 teaspoons fennel seed, crushed
– 1 teaspoon red pepper flakes
– 1 teaspoon sweet paprika
– 1 teaspoon dried oregano
– Several dashes fresh black pepper
METHOD
1. Before mixing your ingredients, get your steaming apparatus ready, bring water to a full boil. The rest of the recipe comes together very quickly.
2. Have ready 6 sheets of tin foil. In a large bowl, mash the pinto beans until no whole ones are left. Throw all the other ingredients together in the order listed and mix with a fork. Divide dough into 6 even parts. Place one part of dough into tin foil and mold into about a 5 inch log. Wrap dough in tin foil, like a tootsie roll. Don't worry too much about shaping it, it will snap into shape while it's steaming because this recipe is awesome.
3. Place wrapped sausages in steamer and steam for 40 minutes.
Black-Eyed Pea Vegan Burgers Recipe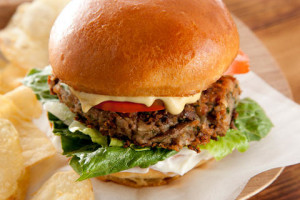 A veggie burger shouldn't taste like a science experiment gone wrong. Mushrooms and black-eyed peas give these vegan burgers the right moisture and density, plus bold natural flavors. Top your burger with ketchup, vegan mayonnaise, caramelized onions, sliced tomatoes, or dill pickles.
What to buy: Tamari is wheat-free soy sauce; it can be found in gourmet groceries and Asian markets. If you have a hard time finding it, you can use slightly saltier soy sauce instead.
This recipe was featured as part of our Vegan Comfort Food recipe slideshow.
INGREDIENTS
3 tablespoons vegetable oil
6 medium cremini mushrooms (about 4 ounces), cleaned, stemmed, and sliced 1/4 inch thick
Kosher salt
Freshly ground black pepper
1 medium shallot, finely chopped (about 2 tablespoons)
1 medium garlic clove, minced
1 (15-ounce) can black-eyed peas, drained and rinsed
1 medium scallion, thinly sliced (white and light green parts only)
2 tablespoons finely chopped fresh cilantro leaves and stems
1/2 teaspoon tamari, plus more as needed
1/4 teaspoon Tabasco Sauce, plus more as needed
4 toasted vegan ciabatta or burger rolls, for serving
INSTRUCTIONS
Heat 1 tablespoon of the oil in a large frying pan over medium heat until shimmering. Add the mushrooms, season with salt and pepper, and cook, stirring occasionally, until browned, about 2 to 3 minutes. Add the shallot and garlic and cook until fragrant and softened, about 2 minutes. Transfer the mushroom mixture to a small bowl and wipe the pan clean with paper towels; set aside.
Place the peas in a large bowl and mash with the back of a spoon or a potato masher, leaving a few of the peas intact. Add the mushroom mixture, scallion, cilantro, tamari, and Tabasco and mix until combined. Taste and season with more salt, pepper, tamari, and Tabasco as needed. Using your hands, form the mixture into 4 (3-inch-wide) patties (about 1/3 cup each).
Heat the remaining 2 tablespoons oil in the reserved frying pan over medium-high heat until shimmering. Add the patties and fry until the outsides are browned, about 5 to 6 minutes per side. Serve on toasted ciabatta or burger rolls with your favorite toppings.
Crock pot meatless Irish stew recipe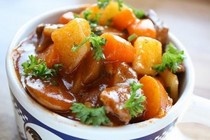 Ingredients:
1 Tablespoon olive oil
1 medium sweet yellow, white or red onion, diced
2 cloves garlic, finely chopped
4 cups vegetable broth at room temperature (make your own vegetable broth from scraps)
1 Tablespoon nutritional yeast flakes
¾ cup apple juice or cider
¼ cup apple cider vinegar
3 large potatoes, peeled and cut into chunks
2 large carrots, peeled and cut into chunks
3 large ribs celery, cut into chunks
2 large parsnips, peeled and cut into chunks
3 Tablespoons pearl barley½ teaspoon dried sage or 3 fresh sage leaves finely chopped
Salt and pepper to taste
1 bay leaf
½ cup frozen peas, thawed
4 to 6 green onions, chopped, for garnish (optional) or coarsely chopped fresh parsley
Directions:
In large sauté pan, heat olive oil over medium heat. Add onions and garlic and sauté until softened, about 5 minutes. Remove to crockpot.
To crock pot add vegetable broth and nutritional yeast; stir to dissolve nutritional yeast. Add apple juice and apple cider vinegar to the crock pot.
Add remaining ingredients except peas and green onions to crock pot. Stir well; cover and set on low. Cook on low 6 to 8 hours.
Add the peas the last hour of cooking time.
Remove bay leaf and ladle into bowls. Sprinkle generously with chopped green onions or chopped parsley.
Yield: 4 servings
Vidalia Onion Mini Cornbread Muffins‬‬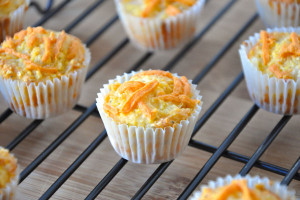 Ingredients:
2 tablespoons vegan butter substitute
1/2 of a large Vidalia onion, chopped
1 cup cornmeal
1/2 cup unbleached all-purpose flour
1 teaspoon baking powder
1/4 teaspoon salt
1/4 teaspoon dried dill weed
2 tablespoons grape seed oil
1/2 cup unsweetened soy milk
1/2 cup vegan sour cream
1 teaspoon apple cider vinegar
1/2 cup Daiya Cheddar Style Shreds
Preparation:
Preheat your oven to 350 degrees Fahrenheit.
Grease or line a mini muffin tin.
Melt the vegan butter substitute in a medium skillet over low-medium heat.
Add the onion to the skillet and cook until the onion is tender, approximately 3 minutes.
While the onion cooks, whisk together the cornmeal, all-purpose flour,baking powder, sea salt and dill in a large bowl.
In a separate bowl, stir together the grape seed oil, soy milk, sour cream and apple cider vinegar.
Add the wet ingredients to the dry ingredients, along with the cooked onion and 1/4 cup of cheddar.
Pour the batter into the muffin cups.
Sprinkle the tops of each muffin with the remaining 1/4 cup of cheese.
Bake for 22-25 minutes or until a toothpick can be inserted and removed cleanly.
Vegan Chickpea Cakes with Mashed Avocado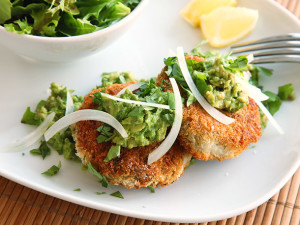 Ingredients
1/2 cup bulgur wheat
1/2 cup loosely packed parsley leaves
1/2 cup loosely packed mint leaves
1/2 cup loosely packed cilantro leaves
1 medium clove garlic, roughly chopped
1/2 teaspoon ground coriander
1 serrano or jalapeño chili, stemmed, seeded, and roughly chopped (optional)
1 (15 ounce) can of chickpeas, drained, rinsed, and dried on paper towels
Kosher salt and freshly ground black pepper
1/2 cup flour
1/2 cup water
1 1/2 cups vegan panko-style breadcrumbs
1/2 cup vegetable or canola oil
1 avocado
1 tablespoon juice from 1 lime
lime or lemon wedges, sliced onion, chopped cilantro, and pickles for serving
Procedures
Bring 2 cups of water to a boil over high heat. Add bulgur wheat and cook until tender, about 10 minutes. Drain carefully.

While wheat cooks, combine parsley, mint, cilantro, garlic, jalapeño and coriander in the bowl of a food processor. Pulse until finely chopped, scraping down sides as ncessary, about 10 to 12 short pulses. Add half of chickpeas and pulse until a rough puree is formed, scraping down sides as necessary, about 8 to 10 short pulses. Transfer to a large bowl.

Add remaining chickpeas to food processor and pulse until roughly chopped, 4 to 6 pulses. Transfer to bowl with chickpea/herb mixture. When bulgur wheat has drained, add to bowl. Season with salt and pepper, then fold mixture together, starting with a rubber spatula, and finishing by hand when cool enough to handle. Form mixture into patties roughly 3/4-inch thicka dn 3 inches wide (you should be able to work 8 to 12 patties)

Combine flour and water in a medium bowl and whisk until smooth. Place breadcrumbs in second medium bowl.

Working one patty at a time, dip in flour mixture to coat, then transfer to breadcrumbs. Cover with breadcrumbs on all sides, then transfer to a plate. Repeat with remaining patties.

Heat half of oil in a large cast iron or non-stick skillet over medium-high heat until shimmering. Add half the patties in a single layer and cook, swirling pan occasionally, until golden brown on bottoms, about 2 minutes. Carefully flip and cook second side, swirling pan occasionally as they cook, about 2 minutes longer. Transfer to a plate and keep warm while you cook the remaining patties.

Place avocado in a medium bowl and mash the flesh with a fork. Season with salt and add lime juice. serve fried chickpea patties with mashed avocado, sliced onions, herbs, and lime or lemon wedges.