Jan. 30, 2017
MY FRIENDS, WHAT IS OUR CAUSE TODAY?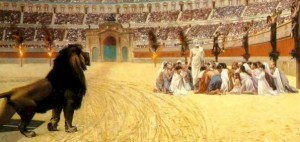 "Great numbers were thrown to wild beasts or burned alive in the amphitheaters. Some were crucified; others were covered with the skins of wild animals and thrust into the arena to be torn by dogs [all for the glory of God is there not a cause]. (E.G. White, The Great Controversy p 40) And David said, "What have I done now? Is there not a cause?"  Then he turned from him toward another and said the same thing; 1 Samuel 17:29 (KJV) My friends, what is our cause today?
Are you willing to give it all for the Master? Christ Himself says very few will even try and seek a cause. For "wide is the gate, and broad is the way, and many are the travelers on their way to destruction; but the strait gate, is a narrow way, and seldom traveled, which leads to life eternal and few will find it. (Matt 7:13-14 (KJV)  
Christ knew His cause, as He stood before Pilate who ask Christ "art thou a king"? Jesus answered, thou sayest that I am a king.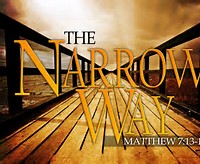 To this end was I born, and for this cause came I into the world, that I should bear witness unto the truth. Every one that is of the truth heareth my voice." John 18:37 (KJV) My friends today, our cause must be all for the glory of God and His will for us as we carry our cross "for such a time as this."
But many are losing the battle because Satan has placed many gods of this world before us that consumes our time, talents and money, which then even self becomes a god we worship. "And all the men of God fled and were dreadfully afraid. 1 Samuel 17:24 (KJV) But is there not a cause to stand up for God and fight. God has given us his "full armor" to stand firm against "principalities and the rulers of the darkness of this world."
1 Cor. 15:57-58 (KJV) tells us, "thanks be to God, who gives us the victory through our Lord Jesus Christ. Therefore, my beloved brethren, be steadfast, immovable, always abounding in the work of the Lord, knowing that your labor is not in vain in the Lord." But first we must give it all to the Master as God's word and His Spirit becomes our five smooth stones and sling that will bring us victory against the enemy.
And Like David with a cause to serve God had no doubt in his mind that he would defeat Goliath and that it would be a great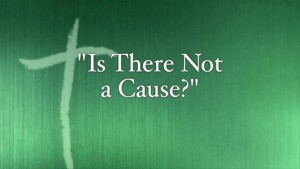 victory for God. 1 Samuel 17:48 (KJV) tells us " So it was, when the Philistine arose and came and drew near to meet David, that David hurried and ran toward the army to meet the Philistine."
Oh what cause and a passion to serve as he ran quickly to serve God because his faith in God was strong, and he knew the victory had nothing to do with him, but it had everything to do with His passion for God who had done so much for Him. Then David threw the stone, and through the power of God's Spirit, Goliath was defeated.
"And when they saw their champion was dead, they fled"1 Samuel 17:51 (KJV) "Submit yourselves therefore to God. Resist the devil, and he will flee from you." James 4:7 (KJV) This same power through God's word and Spirit we also have if we believe with a cause.