Jan. 24, 2017
MY FRIENDS, ACCORDING TO OUR FAITH OUR EYES WILL BE OPEN!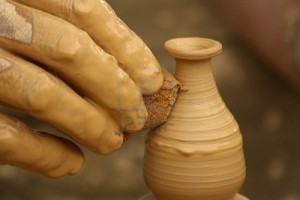 Like clay in the potter's hand God's Spirit will begin to shape our Character for God's kingdom as we begin to recognize what "God is able to do exceedingly, abundantly above all that we ask or think." And Friends, He is willing to do this in every situation, and circumstances of our life. And then, our faith and God's word takes over and become the focal point of our life as we take up the "shield of faith, [so that we will] be able to quench all the fiery darts of the wicked one." Eph. 6:16 (KJV)
That shield of faith also reminds us, nothing "is too hard for God?" Jeremiah 32:27 (KJV) Remember my friends when the Israelite's left Egypt, Exodus 19:4 (KJV) tells us God said to His children "You yourselves have seen what I did in Egypt, and how I carried you on eagles wings and brought you to myself. "
In addition, He asks them to do something breathtaking and awe-inspiring. He ask for a commitment as they pledged their loyalty to Him. In Exodus 19:5-6 (KJV) God tells Israel, "now if you obey me fully and keep my covenant, then out of all nations you will be my treasured possession. Although the whole earth is mine, you will be for me a kingdom of priests and a holy nation."
Today God is asking us to stand up and pledge our loyalty to Him also because we are also his Children, and at times it will be the evidence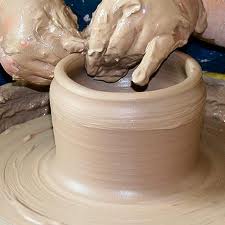 of things not seen, only our faith that will takes us from Egypt to the promise land or this Earth to Gods kingdom but, He who begun a good work in each of us "will carry it on to completion until the day of [His soon return.]" Phil 1:6 (NIV)
2,000 years ago, the transformation process started on Calvary. As the Potter, Christ continues to shape us daily. But in most cases we refused to allow Him to finish the process. But let's focus on the fact that without any reservations it was always the touch of the Masters hand at each intersection of our life that got us through the storm.
And in-spite of Satan redirecting our footsteps which from all indications at that point we had become useless, and unworkable. This is where the clay becomes spoiled and unusable. As a teenager I remember taking pottery in art class and if the clay become unworkable, I would just discard, and start over.
Oh! But in the potter's hands, we never become unusable because of God's selfless, sacrificial, and unconditional love and His "willingness to move heaven and earth," and "principalities, and the rulers of the darkness of this earth" to save you and I from the penalty of sin which is death so He never gives us.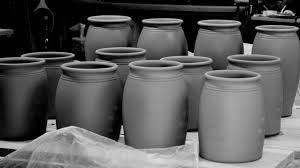 So love shapes and reshapes our character as the Spirit of God convicts, instructs, restores, guides and empowers every area of our life until we become the image He is seeking. "Then He touched their eyes, saying, "according to your faith let it be to you." And their eyes were opened." Matt 9:29-30 (NKJV)
My friends, according to our Faith our eyes will be open and on our way to the promise land if we "say to this mountain, 'Be taken up and thrown into the sea,' and [we have no] doubt in our heart, but believe that what He says will come to pass, it will be done." Mark 11:23 (ESV)