Aug. 31, 2014
MY FRIENDS, HOW MUCH TIME IS NEEDED TO PERSUADE A CHILD OF GOD?
King Agrippa, do you believe the prophets? I know that you do believe."Then Agrippa said to Paul, "You almost persuade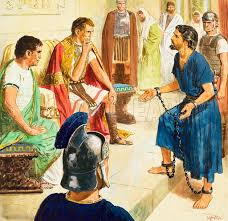 me to become a Christian."And Paul said, "I would to God that not only you, but also all who hear me today Acts 26:27 (NKJV) My friends it is The Spirit of God who convicts each of us to make changes in our life, but Agrippa was not willing or just not able to because the god of this world had convince him, I am all you will ever need.
But one day Agrippa will have to face God and explain his actions, because one day "God will bring every deed into judgment, with every secret thing, either good, or evil."Ecc. 12:14 (ESV) My friends very few truly comprehend all that Christ is doing and continues to do for our salvation, if  we would just have faith and stay focused on the transforming power of our Savior and not what this world has to offer.
"One among the two who were crucified with Jesus was hurling abuses at Him, saying, "Are You not the Christ? Save Yourself and us!" But the other answered while rebuking him, said, "Do you not even fear God, since you are under the same sentence of condemnation? And we indeed are suffering justly, for we are receiving what we deserve for our deeds; but this man has done nothing wrong."
And he then asked, "Jesus, remember me when You come in Your kingdom!" And He said to him, "Truly I say to you, today you shall be with Me in Paradise." Luke 23:39-43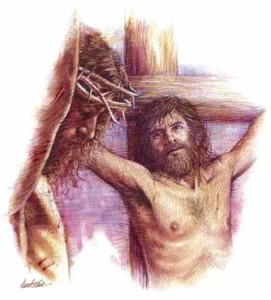 (NASV) both thieves are in the PRESENCEof Christ but only one recognizes and believed Christ as being the savior of the world.
A moment that is all it took for one thief to believe and repent from within and He received the ultimate reward eternal life, another like Agrippa, "You almost persuadeth me" and he will also get his just reward one day, perdition. Salvation is seldom a deathbed experience or like the thief on the cross, in a moment, for most children of the King we have to continue to endure the trials of this life while allowing God's Spirit to transform us.
But whatever way God chooses for our destiny, He desires all men"[and women] to be saved and to come to the knowledge of the truth." 1 Tim 2:4 (NKJV) the parable of the wheat and tares in Matt 13 24:30 (KJV) tells us they both look the same like the too thieves on the cross the only difference is Wheat is a marketable crop, or "Safe to save", and tares are just weeds with no redeeming value.
But to keep from pulling up the good wheat with the tares they are allowed to grow together until harvest time. So it is with everyone who calls himself a child of God some will never become completely convicted by Gods Spirit "having a form of godliness but denying its power. ……always learning and never able to come to the knowledge of the truth." 2Tim 3:5-7 (KJV)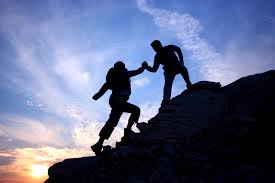 They look like A Christian who has died to self and given it all to the Master until they reach the threshing floor….which is the place where the seeds are separated from the vine. Today Christ is at the threshing floor and we are all being separated as judgment goes on daily in the courts of Heaven. One day "He will render to each one according to his works.
"The Spirit himself bears witness with our spirit that we are children of God, and if children, then heirs, heirs of God and fellow heirs with Christ, provided we SUFFER WITH HIM in order that we may also be glorified with him." Romans 8:16-17 (KJV) my friends key words SUFFER WITH HIM meaning "he that endures to the end shall be saved."
We are at the threshold, the promise land is right over the horizon HOLD ON my friends Sing praises to the Lord, O you his saints, and give thanks to his holy name. For his anger is but for a moment, and his favor is for a lifetime. Weeping may tarry for the night, but joy comes with the morning." Ps. 30:4-5 (ESV) and sunrise is almost here.
So my friends today. Stay focused, remain faithful, love one another and endure till the end and never forget to STUDY&PRAY