April 30, 2015
MY FRIENDS, EVEN THE VERY ELECT ARE VULNERABLE!!!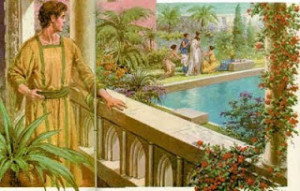 "It happened in the spring of the year, at the time when kings go out to battle, that David sent Joab and his servants with him, and all Israel; and they destroyed the people of Ammon and besieged Rabbah. But David remained at Jerusalem…..and one evening, [David a man after "God's own heart"] "got up from his bed and walked around on the roof of the palace.
From the roof he saw a woman bathing. The woman was very beautiful, and David sent someone to find out about her. The man said, "She is Bathsheba, the daughter of Eliam and the wife of Uriah the Hittite."2 Samuel 11:1-4 (NKJV) Isn't it amazing even the elect are vulnerable when God's precious time is not spent wisely, and our focus is not on His presence in our life.
The world we live in today is so saturated with visual enticements that go straight at seducing the mind. Mrs. White says it best, in Letters to Young Lovers when she says, "Those who would not fall a prey to Satan's devices, must guard well the avenues of the soul; they must avoid reading, seeing, or hearing that which will suggest impure thoughts.
The mind must not be left to dwell at random upon every subject that the enemy of souls may suggest. The heart must be faithfully shielded, or evils without, will awaken evils within, and
the soul will wander in darkness. Those who would have that wisdom which is from God must become fools in the sinful knowledge of this age, in order to be wise.
They should shut their eyes, that they may see and learn no evil. They should close their ears, lest they hear that which is evil and obtain that knowledge which would stain their purity of thoughts and acts. And they should guard their tongues, lest they corrupt communications and guile be found in their mouths."
As with David His initial lust went from adultery, to murder and then too lying, but thank God it also lead to repentance, confession and a renewed commitment to the will of God with these words of sorrow he states "Have mercy upon me, O God, according to Your steadfast love; according to the multitude of Your tender mercy and loving-kindness blot out my transgressions. Wash away all my iniquity and cleanse me from my sin. Psalm 51:1-2 (KJV)
As a Child of the King we must forever stay focused while maintaining the mind and thoughts of Christ while continually sending our petitions to the Good Shepard for strength through His Spirit for we must "Put on the full armor of God, so that we can take our stand against the devil's schemes.
For our "struggle is not against flesh and blood, but against the rulers, against the authorities, against the powers of this dark world and against the spiritual forces of evil in the heavenly realms. Therefore put on the full armor of God, so that when the day of evil comes, we may be able to stand your ground, and after you have done everything, to stand. Ep.6:11-13 (KJV)
My friends Christ never lost focus of His goal which was Calvary, but each Child of God can walk in the same footsteps of Christ if our focus is steadfast, unmoveable, always abounding in the work of the Lord."1 Cor. 15:58 (KJV)
In addition, we must always allow our faith to be limitless in every situation and circumstances. Through Christ, every battle was won for us at the cross, so now our journey has been set and our hope and salvation remains our choice. "So choose you this day whom you will serve."
So friends stay focused, remain faithful, love one another and endure till the end and never forget to STUDY&PRAY