Dec. 31, 2013
TRAVEL LIGHTLY MY FRIENDS, HEAVEN IS OUR DESTINATION!!!
"For this world is not our permanent home; we are looking forward to a home yet to come. Therefore, let us offer through Jesus a continual sacrifice of praise to God, proclaiming our allegiance to his name." Heb.13:14-15
As 2013 comes to a close today. My commitment and I hope my friends God's Spirit can convince you, that it is TIME TO GIVE IT ALL TO THE MASTER. First of all I will start off each day asking God WHAT IS YOUR AGENDA FOR ME TODAY, LORD?
Nothing from this point on, can be about us my friends SELF MUST DIE, and A TRANSFORMATION MUST TAKE PLACE. Our FOCUS should only be, what does God's AGENDA entail. If our plans are to make CHRIST AGENDA our PRIORITY,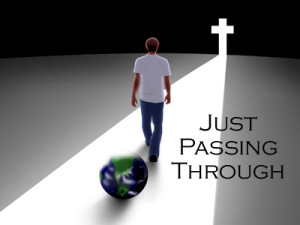 then it is time we begin DOWNSIZING our PRIORITIES starting with what the god of this world deems as essential.
My friends from now until we can see our Savior face to face WE MUST TRAVEL LIGHTLY, WITH HEAVEN OUR DESTINATION as we spread the good news of the gospel to a world marred in sin. First of all we must
"LAY ASIDE every weight, and the sin which so easily ensnares OUR LIFE, AS WE RUN with endurance the race that is set before us,  looking unto Jesus, the author and finisher of our faith, who for the joy that was set before Him endured the cross….Heb 12:1-2
The road will only get narrower my friends on this Journey God has placed His chosen on. But God's Word and Spirit must be our only benchmark with HEAVEN OUR DESTINATION. So today ask yourself as you stand in the presence of God, WHAT MUST I DO TO BE SAVED.
And I think its safe to say He will tell you. LAY ASIDE some of your friends, and LAY ASIDE most of what you watch on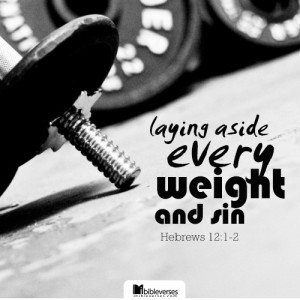 TV, internet, and at the show, LAY ASIDE unhealthy foods, and LAY ASIDE what you say,and hear that is an abomination to Me. For "whatever you do, do it all for MY GLORY."
My friends I could continue, but I think you recognize once you add to that list your own hidden sins, while LAYING ASIDE all of the SOCIALLY ACCEPTABLE SINS Satan places before all of us which so "easily ensnares you" Then HEAVEN WILL TRULY BE YOUR DESTINATION, and a goal that you SEEK, with a real PASSION to get to.
God has placed us in a very unique position as HIS CHOSEN. But we must realize that Satan also has chosen us. James tells us in James 1:14-15 "But each one is tempted when, by his own evil desire, he is dragged away and enticed. Then, after desire has conceived, it gives birth to sin; and sin, when it is full-grown, gives birth to death."
Yes my friends we are chosen by Satan for PERDITION. But AS WE REMOVE EVERY "WEIGHT OF SIN THAT SO EASILY ENSNARES US" God then tells us "Whatever you do, work at it with all your heart, as working for the Lord, not for human masters," Col 3:23 for the stakes are high my friends if we give it all to the Master our REWARD IS ETERNAL LIFE.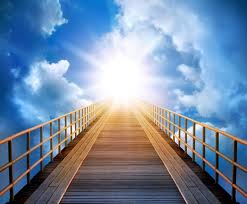 friends each of us have been placed where we are today "for such a time as this?" for "The Spirit of the Lord is upon His chosen, Because He has anointed us To preach the gospel to the poor; He has sent us to heal the brokenhearted, To proclaim liberty to the captives And recovery of sight to the blind, To set at liberty those who are oppressed; and To proclaim the acceptable year of the Lord" (Luke 4:18-19)
Yes my friends "a release from SLAVERY, DEBT, OBLIGATIONS, AS WE FOCUS ON RESTORATION "a new heaven and a new earth," for the first heaven and the first earth will passed away, and there was no longer any sea. I saw the Holy City, the New Jerusalem, coming down out of heaven from God, prepared as a bride beautifully dressed for her husband. And I heard a loud voice from the throne saying, "Look! God's dwelling place is now among the people, and he will dwell with them. They will be His people, and God himself will be with them and be their God. 'He will wipe every tear from their eyes. There will be no more death' or mourning or crying or pain, for the old order of things has passed away." He who was seated on the throne said, "I AM MAKING EVERYTHING NEW!" Rev. 21:1-5 So TRAVEL LIGHTLY MY FRIENDS, HEAVEN IS OUR DESTINATION!!!
So my friends today. Stay focused, remain faithful, love one another and endure till the end and never forget to STUDY&PRAY