Jan. 18, 2017
MY REIENDS, THIS JOURNEY HAS WINDING ROADS BUT THEY WILL BE MADE STRAIGHT!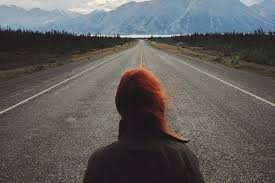 We must prepare for what God is about to entrust to His faithful "for such a time as this" as we remove all distraction, along with every "weight, and sin within our hearts which doth so easily beset us" as we make room for the Spirit of God to convict, instruct, restore, guide and empower every aspect of our lives. And with no reservation we can say, our journey has been rough and the mountains steep. But God is greater than any situation of our life.
Remember friends, our journey is one that He has planned to give His children "hope and a future." Elijah who now sits in the heavenly realm in the kingdom of God appeared to Ahab, the King of Israel and said "I'm a servant of the living Lord, the God of Israel. And I swear in his name that it won't rain until I say so." 1 King 17:1 (NKJV)
This is the first we hear form God's Anointed. But, from that point the "manifestation" of God "for such a time" was revealed. "Elijah said to the widow "thus says the Lord…"the bin of flour will not be used up, nor the jar of oil run dry until the day the Lord sends rain……1 Kings 17:16 (NKJV)
"And he stretched himself out on the [dead] child three times, and cried out to the Lord and the child's soul came back to him."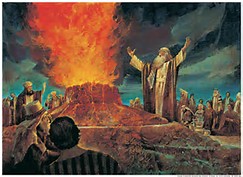 1Kings 17:21-22 (NKJV) And who could forget the miracle on Mount Carmel. "Lord God of Abraham, Isaac, and Israel, let it be known this day that You are God…and I am your servant." And then fire rained down from heaven and consumed the burnt sacrifice……..Now when all the people saw it, they fell on their faces; and they said, "The Lord, He is God! The Lord, He is God!" 1 Kings 18:38-39 (NKJV)
After three years, Elijah prays to God and the drought ends and the rain returns. Up until this point Elijah's life was an epic performance of Faith and courage in God's army against the "spiritual wickedness in high places." But like Elijah, throughout our life the road on this journey Christ has placed us on will become crooked at times because there will always be the highs, and unfortunately the lows in our life.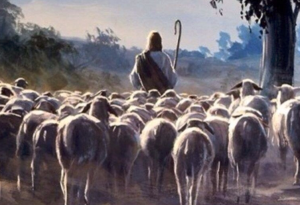 This is when we are most vulnerable to Satan's attacks and we often forget where God has brought us from. Elijah runs from the death threats of Jezebel as he loses focus of where God had been leading Him. He sits under a tree and prays to die. And like Elijah, God's command to all of His faithful is"go forth and stand upon the mount before the Lord. And through the noise of our life if we are listening, that still small voice of God will tell us to look back to where He has brought us from and return to that passion to serve.
My friends, we must finish our course for "God will fill every valley, and every mountain and hill shall be brought low; and the crooked shall be made straight, and the rough ways shall be made smooth" Luke 3:5 (NKJV) That my friends, God will do for us because if we woke up this morning the Journey has not ended. God was not finished with Elijah, neither has He finished with us, So the mandate of God remains the same GO!! THE HUNGRY SHEEP LOOK UP, AND ARE NOT FED,