Sep. 21, 2014
MY FRIENDS, WITH THE LORD HELPING,HAVE WE ALLOWED HIM TO FIGHT OUR BATTLES?
We first meet Caleb, a young man forty years old, a leader of the tribe of Judah. The Lord gives Moses this directive: "Send some men to explore the land of Canaan, which I am giving to the Israelites….." Numbers 13:2 (KJV)
So Caleb, Joshua, and ten other leaders from each tribe are sent on a "reconnaissance mission into Canaan." But my friends this was only a formality, God had already given them the land, through a covenant with Abraham, Issac and Jacob.
But neither saw it fulfilled but through their faith is what allowed Moses and the generation of the Exodus to know God as the One who would fulfilled it. But only Caleb and Joshua out of the 12 spies knew their God and had studied his word and believed when He told Abraham.
"Go forth from your country, and from your relatives and from your father's house, to the land which I will show you; and I will make you a great nation……." Genesis 12:1-3(NKJV) Then Caleb quieted the people before Moses, and said, "Let us go up at once and take possession, for we are well able to overcome it.
"But the men who had gone up with him said, "We are not able to go up against the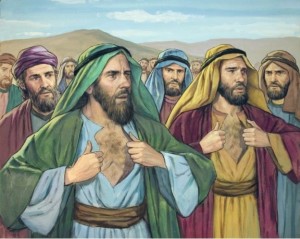 people, for they are stronger than we." And they gave the children of Israel a bad report..,…" Num. 13:30-33 (NKJV)
And the people believed the bad report and God told Moses they certainly shall not see the land of which I swore to their fathers,…….BUT MY SERVANT CALEB because he has a different spirit in him and has followed Me fully, 14:23-24 (NKJV)
Forty years later Joshua the other faithful spy is now leader of Israel. Caleb tells him "I was forty years old when Moses the servant of the LORD sent me from Kadesh Barnea to explore the land. And I brought him back a report according to my convictions, but my brothers who went up with me made the hearts of the people sink.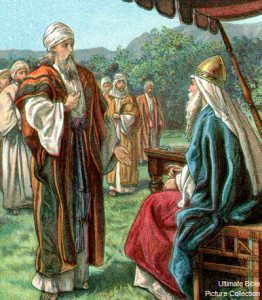 I, however, followed the LORD my God wholeheartedly. So on that day Moses swore to me, 'The land on which your feet have walked will be your inheritance….because you have followed the LORD my God wholeheartedly.'…So here I am today, eighty-five years old!
I AM STILL AS STRONG TODAY AS THE DAY MOSES SENT ME OUT; I'M JUST AS VIGOROUS TO GO OUT TO BATTLE NOW AS I WAS THEN. Now give me this hill country that the LORD promised me that day. THE LORD HELPING ME, I WILL DRIVE THEM OUT JUST AS HE SAID."
My friends, after 40 years wondering in the wilderness because of someone else's unbelief Caleb's faith never wavered, he knew his God, he knew what he would do, he saw what the plagues did to the Egyptians, but not God's Children.
He saw the red sea part as the Israelite crossed over and the Egyptian drowned as they attempted to follow. He ate the food that fell from heaven each day. He heard the voice of God at mount Sinai when his 10 precepts were given.
He witness God bring down the walls of Jericho that should have been done 40 years earlier, if Israel had believed. Caleb had faith in his God he had endured through it all. "But he also knew the battle was not His but the lord's"
In addition, he tells Joshua  "BUT, THE LORD HELPING ME, I WILL DRIVE THEM OUT JUST AS HE SAID." like Caleb our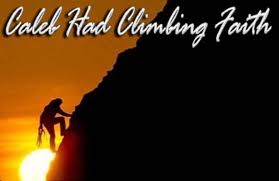 Faith must not waver God tells us "if I go and prepare a place for you, I will come back and take you to be with me that you also may be where I am."
But we must hold on, forever looking above and forgetting about what this world and the god of this world has to offer as we seek the presence of God while allowing self to die daily. Because our God will "come quickly; and [His] reward [will be with Him], to render to each man, [and woman] according as their work is." Rev. 22:12 (NIV)
My friends are you ready for Christ return, "WITH THE LORD HELPING,HAVE YOU ALLOWED HIM TO FIGHT YOUR BATTLES?" "For He knocks. If anyone hears please open the door of your heart and let Him in".
So my friends today. Stay focused, remain faithful, love one another and endure till the end and never forget to STUDY&PRAY