MY FRIENDS, "THE LORD KNOWS THOSE WHO ARE HIS"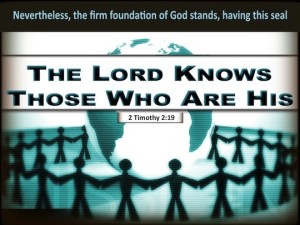 "But God's firm foundation stands, bearing this seal: "The Lord knows those who are his," and, "Let everyone who names the name of the Lord depart from iniquity." 2 Tim. 2:19 (ESV) My friends our hope and faith rest on that promise and to hear those words should give each of us the strength to endure through the final days of this life's history.
"The Lord knows those who are His" Such awe inspiring words, but it also places us in a position, that allows God with no reservation to be fully confident in what we will do or not do as He did with Job, when speaking to Satan.
"Have you considered my servant Job, that there is none like him on the earth, a blameless and upright man, who fears God and turns away from evil?" Job 1:8 (ESV) But then once you have place yourself in that position and stood "stedfast, unmoveable, always abounding in the work of the Lord."
God then has the right to test the strength of our faith and if we are able to endure to the end. "Behold, he is in your hands [God tells Satan]; only spare his life." That is the point in our life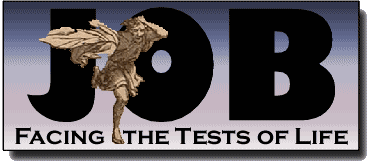 we must strive daily for, when those words "The Lord knows those who are His" relates to the strength of our faith.
My friends it will not be easy as we move closer and closer to Christ second coming to lay aside "every weight, and the sin which doth so easily beset us. Christ tells us to "Enter by the narrow gate; for wide is the gate and broad is the way that leads to destruction, and there are many who go in by it.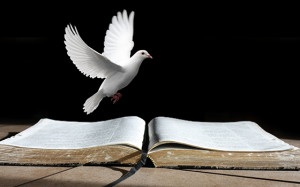 Because narrow is the gate and difficult is the way which leads to life, and there are few who find it." There is a battle that rages on, every day over our very soul. Oh the pain of a parent to sacrifice His "only begotten " and a Son who was willing to take on that responsibility and die in our stead.
And then we have the Spirit who "will guide [us] into all truth; for He will not speak on His own authority, but whatever He hears He will speak; and He will tell you things to come." John 16:3 (NKJV)
So my friends the Plan, if we choose to accept the conditions for our Salvation, is in place and it has been from the foundation of the world "even as he chose us in him before the foundation of the world, that we should be holy and blameless before him. In love" Eph.1:4 (ESV)
And if we follow the plan of the Trinity and allow self to die daily, then we have put ourselves in a position to be "safe to save" and this is why our God can say "He Knows those who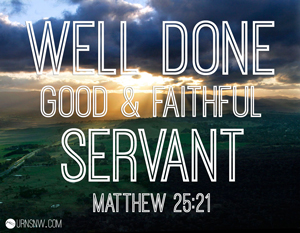 are His" But Satan the accuser of the brethren has no intention in given up.
He is the perfect strategist, in that he watches our every move. If our faith begins to waver towards earthly things and not above on eternal things then he knows there is still hope and so our propensity now to yield becomes harder and harder to resist.
So stay focus my friends, If Christ loved us enough to Die in our stead, surely that love extends too, forever leading, and guiding us. And to pick us up when we fall, if we will believe and endure. Until He can say to us personally "Well done, good and faithful servant; thou hast been faithful over a few things, I will make thee ruler over many things: enter thou into the joy of thy lord." Matt. 25:23 (ESV)
So friends stay focused, remain faithful, love one another and endure till the end and never forget to STUDY&PRAY