August 1, 2017
MY FRIENDS, HAVE WE BEEN IN THIS CONDITION TO LONG?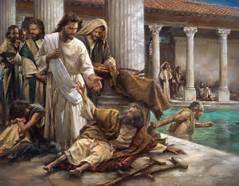 "In Jerusalem near the Sheep Gate a pool, which is called Bethesda…..where a great number of disabled people would lie, the blind, the lame, the paralyzed. One who was there, an invalid for thirty-eight years, when Jesus saw him lying there, learned he had been in this condition a long time, so he asked him, "Do you want to get well?" John 5:2-5 (NIV) The (KJV) calls the invalid "a certain man. Its personal, so you and I become that invalid or "certain man" or woman. And "Christ knows we have been in our condition a long time."
Yes, He knows His Children, and how long our hearts have been unwilling to allow His Spirit to move us from where we are to where He has been trying to lead us. Our excuse like "that certain man" is, "I have no one to help me." (v, 7) But Christ tells us in Matt. 7:7-11 (KJV) Ask, and it shall be given you; seek, and ye shall find; knock, and it shall be opened unto you…what man [or woman,] if his son ask for bread, will he give him a stone?
Or if he ask for some fish, will he give him a serpent? If we then, being evil, know how to give good gifts to our children, how much more shall our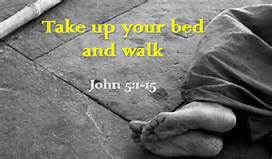 Father in heaven give good things to all that ask Him?" Each day we remain in our condition of complacency that keeps us away from God's free gift of grace and salvation because we are unwilling to ask to be made whole, unwilling to get up and move out on faith while allowing God's Spirit to transform, and "cleans us from all unrighteousness."
So what's our infirmity? And why have we remained in this condition that keeps our focus on the things of this world and not on things above. "Do we want to be made well" spiritually? And where will each of us stand in that day when God will ask for an account of our time, talents and money?
"Master, I knew you to be a hard man, reaping where you did not sow, and gathering where you scattered no seed, so I was afraid, [and that fear allowed self to dictate what I did and how I did it.]" Matt. 25:24-25 (NKJV)But my friends, in the end there will be no excuse, for "God has not given us a spirit of fear, but of power, love and a sound mind." 2 Tim 1:7 (KJV) And, soon, God's cup of Indignation towards mankind will be full.
But, today He waits, He sees our condition, but not slow in fulfilling his promise, as we understand slowness. Instead He's patient with His children,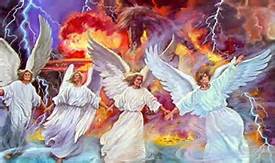 not wanting anyone to perish, but only seeks our love and repentance. But, soon He will say; all who are unjust, let him be unjust still and the righteous, [will remain] righteous still and [throughout the ceaseless ages of eternity]." "Because affliction shall not rise up the second time." Nahum 1:9 (KJV)

And behold, I come quickly, and My reward is with Me, to give to every one according to his works." 2 Peter 3:9 (NIV) Rev 22:11-13 (KJV) My friends, "Do you want to be made well, and receive life eternal? If that is our passion, then self must die daily as we take up our [bed] or cross, and follow Christ, "and become  co-workers " with Him as we finish His mandate, "for such a time as this."