Feb. 18, 2015
MY FRIENDS SIMPLE LESSON, "THE BATTLE IS THE LORD'S" IF WE BELIEVE!!
"So Saul clothed David with his armor, and he put a bronze helmet on his head; he also clothed him with a coat of mail. David fastened his sword to his armor and tried to walk, for he had not tested them. And David said to Saul, "I cannot walk with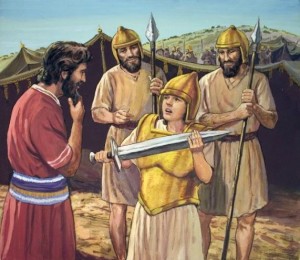 these, for I have not tested them." So David took them off" 1 Sam. 17:38 (NKJV)
Focus on what Saul is trying to do My friends. He believes faith can be outsourced like some commodity, but David knew where his faith lade. Saul, as leader of the army of the living God, why did He not put on his own armor and go out and fight Goliath.
Simple answer my friends, He had no faith. But David a youth "a man after God's on heart" knew "Both riches and honor come from [God] And [God] reigns over all. In [His] hand is power and might; In [His] hand it is to make great and to give strength to all. 1 Chron. 29:12 (NKJV)
Please, focus on the words in that text, because that is a promise from an all knowing, all powerful, Omnipresent God. In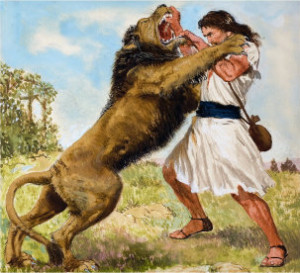 addition, if we are "strong and courageous and not afraid or terrified because of them, the Lord our God will go with us. In addition, never leaving nor forsaking His Faithful" Deu. 31:6 (KJV Paraphrased) and David knew this, so He tells Saul. "I cannot walk with these, for I have not tested them"
My friends, in other words this is not the direction God has told me to walk in and David did know God, for he tells Saul, I know God because "your servant used to keep [my] father's sheep, and when a lion or a bear came and took a lamb out of the flock, I went out after it and struck it, and delivered the lamb from its mouth; and when it arose against me, I caught it by its beard, and struck and killed it.
Your servant has killed both lion and bear; and this uncircumcised Philistine will be like one of them, seeing he has defied the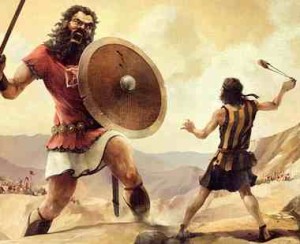 armies of the living God." 2 Sam. 17:34 (NKJV) Oh the power of faith a man or woman who has died to self and allowed the Spirit of God to Transform them into the image of God.
So my friends, David listens to God, because He knew that this victory must be about giving God all the Glory and honor not himself. That my friends is the key to all of our victories, it must be all about God because "this is the confidence that we have in him, that, if we ask any thing according to His will, he heareth us:" 1 John 5:14 (KJV)
But my friends our victories must be "according to His will" not ours. So David goes out to fight the Giant Goliath in the name of God and he stops along the way and picks up "five smooth stones from the brook and his sling is already in hand" along with His faith which was his most important weapon.
So David faces Goliath with a stone, a sling and His faith in God  as he tells the Giant "You come against me with sword and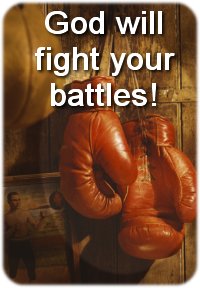 spear and javelin, but I come against you in the name of the Lord Almighty, the God of the armies of Israel, whom you have defied.
This day the Lord will deliver you into my hands, and I'll strike you down and cut off your head. This very day I will give the carcasses of the Philistine army to the birds and the wild animals, and the whole world will know that there is a God in Israel.
All those gathered here will know that it is not by sword or spear that the Lord saves; for the battle is the Lord's, and He will give all of you into our hands." 1 Sam. 45-47 (NKJV) My friends, Simple lesson today, our Battles are the Lords, if we believe.
So friends stay focused, remain faithful, love one another and endure till the end and never forget to STUDY&PRAY