Nov. 27, 2013
A VISIONARY GOAL, SOMEWHERE OVER THE RAINBOW!!!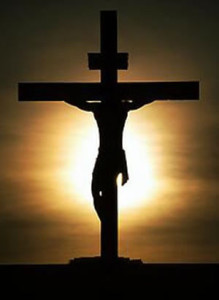 My friends the cross has so many elements for our Salvation, GRACE, MERCY, HOPE, RIGHTEOUSNESS BY FAITH, JUSTIFICATION, and SANCTIFICATION which takes us through all of these elements because as I see it SANCTIFICATION is a process that starts when we first hear the name Jesus Christ, all the way to Calvary, the resurrection, and then His ascension to start His priestly duties on our behalf because Sanctification is not a process that happens over night, but a lifetime of moving towards the kingdom as we die daily to self while allowing the transforming power of God's spirit to lead us on A journey that takes us on a visionary goal SOMEWHERE OVER THE RAINBOW!!! All the way To the PROMISE LAND.
A mother once approached Napoleon seeking a pardon for her son. The emperor replied that the young man had committed a certain offense twice, and justice demanded death. "But I don't ask for justice," the mother explained. "I plead for mercy." "But your son does not deserve mercy," Napoleon replied. "Sir," the woman cried, "it would not be mercy if he deserved it, and mercy is all I ask for." "Well, then," the emperor said, "I will have mercy." And he spared the woman's son.
Throughout our sinful lives we will continually "fall short of the glory of God", but that is where MERCY, plays such a vital part in our Salvation and visionary goal SOMEWHERE OVER THE RAINBOW!!! But frist, no one can be granted this MERCY AND HOPE without the part we each play in this whole scenario which is REPENTANCE OF OUR SINS, where we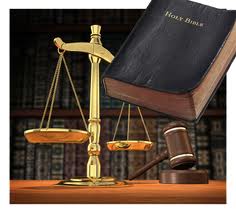 then receive righteousness by our Faith in the belief that Jesus Christ and the blood He shed for us will have MERCY, on a sinner like you and I and grant us a  pardon.
"If we confess our sins, He is faithful and just to forgive us our sins and to cleanse us from all unrighteousness." 1 John 1:9 Because the blood of Calvary JUSTIFIES or gives Our Father the right to say JUSTICE has been served.
So today My Friends MERCY pleads as our HIGH PRIEST, ADVOCATE, INTERCESSOR, MEDIATOR and GREAT HIGH PRIEST stands before the Father, and holds his hands up, saying this is the evidence. Your Son has paid the ultimate price.
And what's so great about this whole process for our SALVATION is the Father and the Son are on record as being united on all issues relating to our Salvation. So today I need you to Ignore Satan, and focus totally on Christ and just compare your life to the pure and holy life of Christ, and then tell yourself OH MY GOD WHERE DO I START.

You defeated Satan for 33 years, but I plead that you only give me your strength and grace to accomplish that feat one day at a time.  "My grace is sufficient for you, He says, for my power is made perfect in weakness…." 2 Cor. 12:9
Oh what a promise, through His POWER I am made Perfect. My friends what that tells me is, our ADVOCATE gives us the power of the cross through His mercy and grace. He is the Alpha and Omega the beginning and the end the "Author and finisher of our faith, who for the joy that was set before Him endured the cross, despising the shame, and has sat down at the right hand of the throne of God. Heb 12:2
And now Philippians 1:6 takes us a little further OVER THAT RAINBOW which says "Being confident of this very thing, that He who has begun a good work in you will complete it until the day of Jesus Christ;" My friends studying the Bible is such a joy when you add up all the pieces and it gives us such a visionary goal SOMEWHERE OVER THE RAINBOW!!! TO THE PROMISE LAND.
Through the cross His redeemed becomes CONQUERORS and one day very soon our visionary goal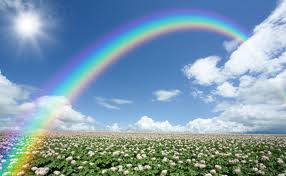 SOMEWHERE OVER THE RAINBOW!!! Will become a reality and our God will stand and say to His Son it's time let's go get our faithful Children. And with "ten thousand times ten thousand, and thousands of thousands…. every eye will behold the Prince of life. No crown of thorns now mars that sacred head; but a diadem of glory rests on His holy brow. His countenance outshines the dazzling brightness of the noonday sun." (White ) "And He hath on His vesture and on His thigh a name written, King of kings, and Lord of lords." Revelation 19:16. My Friends A VISIONARY GOAL SOMEWHERE OVER THE RAINBOW!!! TO THE PROMISE LAND.
So my friends today. Stay focused, remain faithful, love one another and endure till the end and never forget to STUDY&PRAY