Jan. 29, 2014
"HE IS ABLE TO DO EXCEEDINGLY, ABUNDANTLY ALL THAT WE ASK OR THINK"
"Being confident of this very thing that He who has begun a good work in you will complete it until the day of Jesus Christ." Philippians 1:6
"HE IS ABLE TO DO EXCEEDINGLY, ABUNDANTLY ALL THAT WE ASK OR THINK"  Like clay in the potter's hand let's let God's Spirit begin to shape our Character for the kingdom as we begin to recognize what God is ABLE TO DO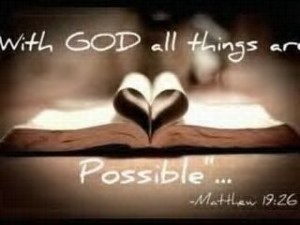 EXCEEDINGLY, ABUNDANTLY ALL THAT WE ASK OR THINK.
And Friends He is willing to do this in every situation, and circumstances in our life . But now this is when our FAITH and God's Word take over and become the focal point of our life. Because "faith is the substance of things hoped for, the evidence of things not seen. Heb. 11:1
So our Faith must rest on God, and our belief in His word that says "Behold, I am the Lord, the God of all flesh. Is anything too hard for me? Jeremiah 32:27 When the Israelite's left Egypt  Exodus 19:4 tells us He said to them 'You yourselves have seen what I did to Egypt, and how I carried you on eagles' wings and brought you to myself.
But then God asks them to do something breathtaking and awe-inspiring, God asked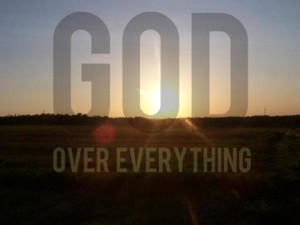 them for a COMMITMENT. He asks them to stand up and pledge their loyalty to Him, as He tells them in "Exodus 19:5-6 now if you obey me fully and keep my covenant, then out of all nations you will be my treasured possession. Although the whole earth is mine, you will be for me a kingdom of priests and a holy nation."
So my friends today God is asking us to do something breathtaking and awe-inspiring, He is asking each of us for a COMMITMENT also. He is asking us to stand up and pledge our loyalty to Him For we "are his Children, He has plans for us, we are a chosen race, a royal priesthood, a holy nation, a people for his own possession, that you may proclaim the excellencies of him who called you out of darkness into his marvelous light 1 Peter 2:9
This is why His mandate to us Brings about a COMMITMENT and a LIFESTYLE CHANGE. "For what is a man profited, if he shall gain the whole world, and lose his own soul? Or what shall a man give in exchange for his soul? So what this verse is telling us is nothing in this world is worth losing your soul over. Mark 8:36-37
Paul also says in Phil. 3:7-8 but whatever were gains to me I now consider loss for the sake of Christ. What is more, I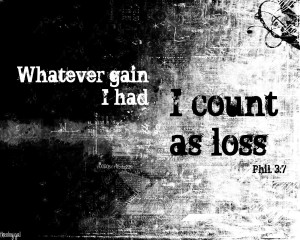 consider everything a loss because of the surpassing worth of knowing Christ Jesus my Lord, for whose sake I have lost all things. I consider them garbage that I may gain Christ."
My friends what Paul is telling each of us who seek God's kingdom is, we must consider all things of this world garbage if it does not FOCUS our attention on Christ and Him crucified and His will for us. As we approach the final days of this life's history there will be a sharp contrast from a child of God and those who follow the forces of evil.
Satan will begin to weaken the SPIRITUAL IMMUNE SYSTEM more and more with the things of this world. And everyone who does not have a firm foundation on Jesus Christ as you allow self to die daily will not have the Faith or ENDURANCE to make it to the finish line.
My friends God begun a good work in each of us 2,000 years ago, the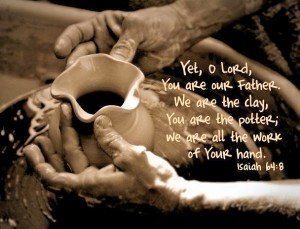 transformation process started on Calvary. The POTTER continues to shape us daily but we continue to allow those "SOCIALLY ACCEPTABLE SINS" keep God's Spirit from finishing His plan for us.
But my friends one day the POTTERS wheel will be put aside, and God will stand up and say "IT IS FINISHED" "He that is unjust, let him be unjust still: and he which is filthy, let him be filthy still: and he that is righteous, let him be righteous still: and he that is holy, let him be holy still." Rev 22:11 so today my friends let's give it all to the Master while HE IS STILL "ABLE TO DO EXCEEDINGLY, ABUNDANTLY ALL THAT WE ASK OR THINK"
So my friends today. Stay focused, remain faithful, love one another and endure till the end and never forget to STUDY&PRAY