Aug 20, 2016
MY FRIENDS, WHY CAN'T WE GO BEYOND SELF TO WHERE GOD CAN USE US?
Self is defined as a person or thing referred to with respect to his or her complete individuality. And when it comes to our salvation complete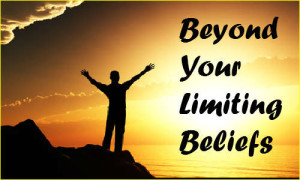 individuality does not allow the Spirit of God to transform you and I into the individual character of Christ. That is why self must be eliminated completely as we move beyond our needs and wants to a place where God can use us for His glory and honor. "Let none suppose that they can live a life of selfishness, and then, having served their own interests, enter into the joy of their Lord.
In the joy of unselfish love, they could not participate. They would not be fitted for the heavenly courts……In the great judgment day those who have not worked for Christ, those who have drifted along, carrying no responsibility, thinking of themselves, pleasing themselves, will be placed by the Judge of all the earth with those who did evil. They [will] receive the same condemnation." (E.G. White, Christ Object Lessons p 364-365)
In God's kingdom where only the joy of unselfish love abides, how could they be comfortable in the "midst of a great multitude which no man or woman could number, of all nations, tribes, peoples, and tongues,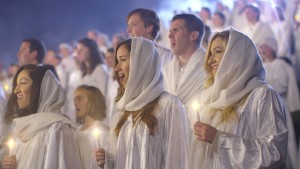 standing before the throne and before the Lamb, clothed with white robes, with palm branches in their hands along with ten thousand times ten thousand, and thousands of thousands, of angels [singing] with a loud voice to the one who gave it all for our salvation "Worthy is the Lamb who was slain To receive power and riches and wisdom and strength and honor and glory and blessing!" Rev. 7:9 (NKJV), Rev. 5:11-12 (NKJV)
Yes my friends, self could never be happy in the midst of such love and adoration. And until we personally understand the unselfish price that was paid for our salvation we will never be able to look beyond our own self to what the needs of God are. We live in an "age of self gratification and personal choices" that has nothing to do with God, therefore dieing to self as far as we are concern is not negotiable because that would require some type of demand on our time, talents, money and character.
The Rich young Ruler was perfect in his own mind. He kept all the commandments. Then, Christ forced him to look into the mirror at self. And Jesus said to him, "If you want to be perfect, go, sell what you have and give to the poor, and you will have treasures in heaven; and come, follow Me. These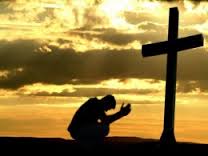 words saddened him because he owned much, and he went away grieving." Matt 17:21-22 (NKJV) My friends, Calvary, that is where it all starts for each of us and God's kingdom is where it will end as we lay self at the foot of the Cross and accept Christ invitation and take up our own cross and follow Him wherever He may lead.
The cross has all of the elements needed for our Salvation; love, faith, endurance, grace, mercy, hope, justification by faith where we are accounted just or free from the guilt and penalty of sin, sanctification because of our faith we are now set apart special, chosen, heirs to Gods kingdom and it starts when we accept Christ as our Savior all the way to Calvary, the resurrection, and then His ascension to start His priestly duties on our behalf. The only thing that is not at the cross is self that we will take into the promise land, because self at that point has become the Character and image of Christ.