Jan 26, 2015
MY FRIENDS, IT'S LIKE BLOODY SUNDAY BUT WE "AIN'T GONNA LET NOBODY TURN US ROUND"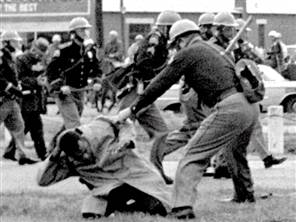 "Selma was the spark of a civil rights movement that helped ignite the desire of leaders with dreams. These dreams created goals of equality." In addition, thousands fought and died just for the right to become First-Class Citizens, which included the Right-To-Vote.
It started February 18, 1965, 500 peaceful protesters who left Zion United Methodist Church in Marion Ala., heading a short walk away to the Perry County Jail where SCLC field worker James Orange was being held.
The City police, sheriff's deputies and Alabama State Troopers met them and began to beat the protesters, they ran, with police following in pursuit. 26-year-old Jimmie Lee Jackson, his mother and grandfather ran into Mack's Café behind the church.
The troopers followed and attacked them in the restaurant, Jimmie Lee, who was unarmed tried to protect his family, one thing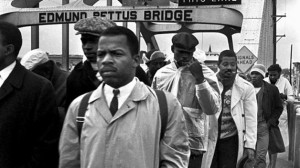 lead to another but not in Jimmy lee's favor, he was shot and died eight days later in the hospital.
Enough!! was the cry,  the blood of another innocent black man prompted the call for a march from Selma to Montgomery. On March 7, 1965, Six hundred peaceful marchers paired in twos started that journey out of Selma on US  Route 80 to the state capitol.
But, it ended the same day, as they crossed over the Edmund Pettus Bridge. Where once again "local lawmen attacked them on horse back with billy clubs and tear gas. This was known as "Bloody Sunday." A second march was formed, It began on March 9. The marchers sang "Ain't Gonna Let Nobody Turn Me Round".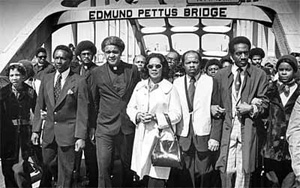 The Alabama state troopers met them when they reached the bottom of the Edmund Pettus Bridge once again. The marchers dropped to their knees and prayed, but left to avoid another confrontation with the state troopers.
Finally a Federal Court granted permission for the Selma to Montgomery march and on March 21, over 3,500 people of all races, including ministers of all faiths, leaders from major civil rights organizations and celebrities headed to Montgomery.
Yes my friends God has always had a plan for His faithful Children starting with in the beginning Gen 1:1 (KJV) and Ending with John's vision, when he tells us "I looked, and there before me was a great multitude that no one could count, from every nation, tribe, people and language, standing before the throne and before the Lamb. They were wearing white robes and were holding palm branches in their hands." Rev 7:3 (NIV)
In addition, like the originally 600 peaceful protesters who set out from Selma to Montgomery only to encounter brutal opposition,
but stayed focused on their goal, not Selma, or the Edmund Pettus Bridge, nor Montgomery was their goal. But their goal and promise land on that day was the passage of the Voting Rights Act. 
And with a passion they sung and believed "Ain't Gonna Let Nobody Turn Me Round." My friends, the faithful in Gods word who decided to follow Christ no matter how brutal the opposition from Satan, they also decided "Ain't Gonna Let Nobody Turn Me Round"
Now it becomes personal, we are at the threshold of the promise land and everyday is like "bloody Sunday" and Satan along with his forces of evil are "taking no prisoners" there are many who are "fearful and trembling," because they have heard the word…, yet it had no root.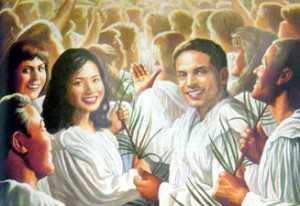 They endured for a while, and when tribulation or persecution arises…, they immediately turn away. Also some who hears the word, but allowed the cares of the world and the deceitfulness of riches choke the word, and it proves unfruitful.
But those who "Ain't Gonna Let Nobody Turn them Round" hears the word and understands it. They indeed bears fruit and yields, in one case a hundredfold, in another sixty, and in another thirty." Matt 13:18-23 (ESV)
My friends what about you, are you willing to give it all to the Master and with faith and endurance and with a passion from within "Let no principalities, or rulers of the darkness of this world," "Turn you Round" as you prepare to cross into the promise land.
So my friends today. Stay focused, remain faithful, love one another and endure till the end and never forget to STUDY&PRAY