I HAVE TO HAVE ME SOME FLESH!!!
Luke 24:41-43  And while they still did not believe it because of joy and amazement, he asked them, "Do you have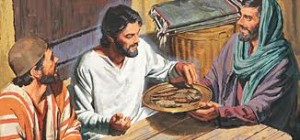 anything here to eat?"  They gave him a piece of broiled fish, and he took it and ate it in their presence.
Also Christ in keeping the Passover had to have eaten lamb and or goat. The Passover to Israel was A Holy Day commemorating the Exodus of the Israelites from Egypt; it was a commanded assembly, that was mandatory.
So we have confirmed Christ ate meat, the bible does point that out, He ate fish, the Passover Lamb and maybe goat. But as Children of God, we must ask ourselves is eating animal flesh necessary for our physical mental and spiritual survival.
For In the beginning God gave our first parents Adam and Eve all the food necessary for a total Physical, Mental,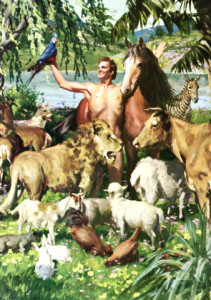 and spiritual lifestyle, a lifestyle that would never cease to bring vitality and endurance to, the perfect anatomy that He had created in the likeness of Himself.
It was contradictory to His plan at creation to have the life of any creature taken. There was to be no death, or disease, in Eden. The fruit of the trees in the garden was all the nourishment required for man's needs.
In creating man's food on the third day when He said and the tree yielding fruit, whose seed was in itself after His kind: and God saw that it was good. The Lord showed what the best diet for his well-being was.
Only after the flood did God give man permission to eat animal food. Those individuals, who lived before the flood after man sinned, ate animal food to gratify their sinful lusts, and this continued until their cup of iniquity was full with God.
And He "repented that He had made man on the earth and it grieved Him at His heart. After the flood God permitted man to continue to eat animal food to shorten their sinful lives. Soon after the flood, mankind began to rapidly decrease in size, and in length of years.
It was never Gods will that we should gratify our appetites, by the killing of animals as a means of survival. If we are to be a peculiar people in God's sight, we must exercise temperance in all things.
Health reform and the elimination of eating animals must be one of our main  priorities if we are to finish this Journey and endure to the end, as we finish this race in preparation to live throughout eternity with our Lord and Savior.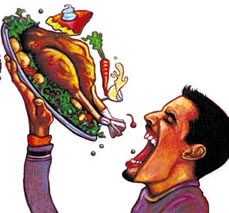 1 Peter 2:11 tells us "Dear friends, I urge you, as foreigners and exiles, to abstain from sinful desires, which wage war against your soul." Thus warfare is forever in battle between our propensities toward the lust of the flesh,
imperiled by the indulgence of appetites that is unsanctioned by heaven, and what Gods originally plan for our well being was intended for us from the beginning in the Garden of Eden. And If we would always focus on Paul's words in
Romans 12:1,2 "I Beseech you therefore, brethren, by the mercies of God, that ye present your bodies a living sacrifice, holy, acceptable unto God, which is your reasonable service.  And be not conformed to this world:
but be ye transformed by the renewing of your mind, that ye may prove what that is good, and acceptable, and perfect, will of God." Flesh was never the best food; but its use is now doubly objectionable, since disease in Animals is so rapidly increasing.
Christian today feel that they cannot get along without flesh foods; but if they would place themselves on the Lord's side, forever walking in the way of His guidance, they would receive strength and wisdom as did Daniel and his fellow companions, in refusing to eat the king's meat.
Many Christians would be surprised to see how much more healthy they would be by the self-denial of animal foods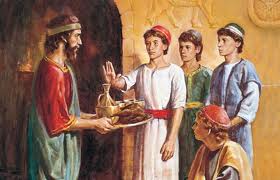 as they keep their eyes stayed on the transforming power of Christ. My friends ask yourself today.
As A Child of God how do I prepare for Eternity,  Because Eden will be restored. For John tells us in Revelation 22:1-3 Then the angel showed me the river of the water of life, as clear as crystal, flowing from the throne of God and of the Lamb down the middle of the great street of the city.
On each side of the river stood the tree of life, bearing twelve crops of fruit, yielding its fruit every month. And the leaves of the tree are for the healing of the nations. No longer will there be any curse. The throne of God and of the Lamb will be in the city, and his servants will serve him.
My friends all I ask of you today is to FOCUS on what preparation we as Gods Children  must make "For this world is not our permanent home; we are looking forward to a home yet to come." We as Christians are all, now being tested, and tried in preparation for the final stretch to the finish line, as we look forward to receiving that ultimate prize, Gods pure and holy kingdom. All of us as Christian have been baptized into Christ abiding love and grace. And if we would act our part as Gods Children, by separating from everything that would diminish our health in the sight of God, and gain strength as we grow in Christ who is the foundation, and center, of our mind and body
So my friends today. Stay focused, remain faithful, love one another and endure till the end and never forget to STUDY&PRAY