Feb. 25, 2017
MY FRIENDS, DO YOU BELIEVE HE WHO IS WITH US IS GREATER?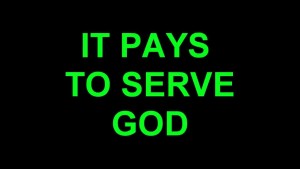 Our narrative begins in 2 Kings 6:8-23 (NIV) The king of Aram was at war with Israel. After conferring with his officers, he said privately, where he would set up his camp. But God told the man of God, Elisha, where the location of the Aramean army would be. And, each time the Armean's moved to a different location, Elisha was warned by God and he would relate their location to the King of Israel. This enraged the king of Aram!
So, he summoned his officers and demanded of them. Tell me! Which of us is on the side of the king of Israel?" "None of us, my lord the king," said one of his officers, "but Elisha, the prophet who is in Israel, tells the king of Israel the very words you speak in your bedroom." "Go, find him the king ordered," as he sent all of his forces by night and surrounded the city where Elisha was.
When the servant of the man of God got up and went out early the next morning, an army with horses and chariots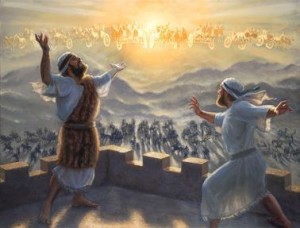 had surrounded the city. "Oh no, my lord! What shall we do?" the servant asked. "Don't be afraid," Elisha answered. "Those who are with us are more than those who are with them."
And Elisha prayed, "Open his eyes, Lord, so that he may see." Then the Lord opened the servant's eyes, and he looked and saw the hills full of horses and chariots of fire all around Elisha." My friends, God tells us in 2 Chron. 20:15 (KJV), "not to afraid nor dismayed by reason of [any] great multitude; for the battle is not ours, but God's.
But my friends, it's only in God's word and on our knees and through Gods Spirit where our fear is eradicated. And like Elisha who knew His God and forever prayed seeking the presence of His God, and His will for his life. Like Elisha, at that point on our journey, we know our God and what He will do for and through us.
So our prayers are that others will see as we see and will understand and know the power of the one "who is in us, is greater [and more powerful] than the one who is in the world" 1 John 4:4 (NIV) But, we must also understand "at times we may be hard pressed on every side, but not crushed; perplexed, but not in despair; persecuted, but not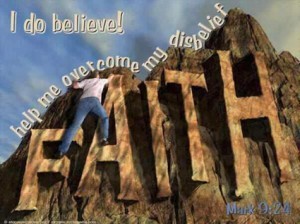 abandoned; struck down, but not destroyed, Cor. 4:8-9 (NIV)
But we must never "be afraid," because "the one who is in His faithful in any and all situations and circumstances of our life is greater than all principalities and all rulers of the darkness of this world and all spiritual wickedness in high places! And the one who is in you and I will never leave nor forsake us even if He has to surround us on every Hill and mountain with "horses and chariots of fire."
My friends, as God's elect, He's preparing us for something we may not quite be able to handle today. But soon, because prophecy is ending rapidly, through or faith, His promise is "whoever says to this mountain, 'Be lifted up and thrown into the sea!' and does not doubt in his heart [in God's unlimited power], but believes that what he says is going to take place, it will be done for us [in accordance with God's will]." Mark 11:23 (AMP)