Oct 19, 2017
MY FRIENDS, WHO ARE WE ALLOWING TO DEFINE OUR DESTINY?
Satan forever the strategist, knows his days are numbered so he does everything he can to keep God's people from responding to a total commitment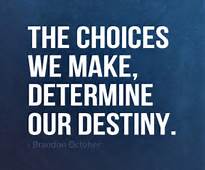 to thus saith the Lord as he defines our destiny as, "he disguises temptation and sin by dressing them alluringly. He hides greed and selfishness underneath the golden-threaded silk of materialistic well-being.
He uses the soft green velvet of self-esteem to cover envy and jealousy. He cloaks lust and immorality in the scarlet satin of false love. He arranges the purple [fabric] of supposedly justifiable indignation in such a way that it makes hate and anger appear acceptable. He clothes cowardly fear of what others will think in the sunny yellow [draperies] of self-deception.
And Satan hides doubt and despair beneath the royal blue [finely crinkled silk] of false-intelligence. But someday soon the fires of judgment will expose the cover-up. The holocaust of divine revelation will burn away the glamorous outer coverings that cloak our favorite sins. Then nothing will be left but the charred remnants of blackened character." ( Leo R.Van Dolson, A Call to Revival)
Searching the internet, I came across a picture of a tree burning from the inside as the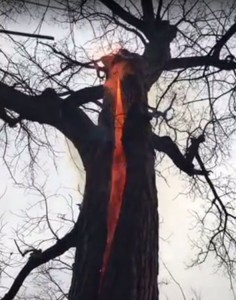 outside stayed in-tack, which I'm sure the entire structure eventually turned into ashes. I then begin to think of a child of God's life that refuses to die to self daily, while allowing God's Spirit to take total control of our Character.
Friends, if we don't have that connection to the source of our salvation while "laying aside every weight, and sin which doth so easily beset us," we will be consumed from the inside and one day when God says it's finished, the "fires of judgement will expose the cover up and nothing will remain but our charred remains" of what could have been if we would have just given our heart to Christ and developed a personal relationship with Him.
God's word says, Be sober, be vigilant; because our adversary the devil, as a roaring lion, walketh about, seeking whom he may devour: 1 Peter 5:8 (KJV) "Then He called his twelve disciples together, and gave them power and authority over all devils, and to cure diseases. And he sent them to preach the kingdom of God, and to heal the sick." Luke 9:2 (KJV) My friends, Judas who lived in the presence of God for three years was one of the twelve.
But, Judas still betrayed Christ for thirty pieces of silver. "He hides greed and selfishness underneath the golden-threaded silk of materialistic well-being."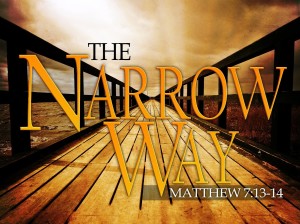 David, a man after God's on heart, "from the roof saw a beautiful woman bathing. He then sent someone to find out about her.
"She's  Bathsheba, the daughter of Eliam, the wife of Uriah the Hittite, they told David." Then David sent messengers to get her. She came, and he slept with her." 1 Sam. 11:2-4 (NIV) "He cloaks lust and immorality in the scarlet satin of false love." My friends, bible characters are only images of who we are and how we respond to Christ love grace and mercy in any, and all situations of our life.
And how we respond will determine our destination," either we will serve Satan and travel that wide road that leads to "charred remnants of a blackened character" and destruction, this road many will travel. Or, we will follow Christ and travel that narrow road with only a few, but the only road that leads to life-eternal.