MY FRIENDS "THANK GOD FOR THE THORN IN OUR FLESH, SO THAT THE POWER OF CHRIST MAY DWELL IN US"
"And because of the surpassing greatness of the revelations, for this reason, to keep me from exalting myself, there was given me a thorn in the flesh, a messenger of Satan to buffet me to keep me from exalting myself! Concerning this I entreated the Lord three times that it might depart from me. And He has said to me,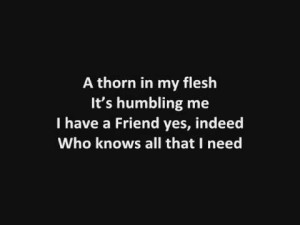 "My grace is sufficient for you, for power is perfected in weakness." Most gladly, therefore, I will rather boast about my weaknesses, that the power of Christ may dwell in me. Therefore I am well content with weaknesses, with insults, with distresses, with persecutions, with difficulties, for Christ's sake; for when I am weak, then I am strong." 2 Corinthians 12:7-10(NASB)
Paul most likely was a proud man, with a little bit of arrogance, so it is with most of God's children, sometimes God allows us to suffer that we may develop humility. "A thorn in our flesh," and it may not always be health issues, but the constant storms in our life are thorns in our flesh, because they are a "messenger of Satan to buffet God's faithful to keep us from exalting ourselves to where God is trying to take us, so that we may exalt Christ in all we do.
In addition, we must keep our eyes focus on our Savior and the straight path He has laid out for us Because we are His Children and He loves us so much, that He gave His life for our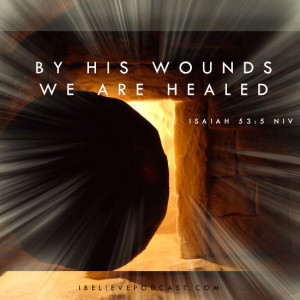 Salvation. "Who [are we], that the Lord of all the earth Would care to know [our] name, Would care to feel [our] hurt?
Who [are we], that the Bright and Morning Star Would choose to light the way For [our] ever wandering heart? [We are] a flower quickly fading, Here today and gone tomorrow. A wave tossed in the ocean. A vapor in the wind. Who [are we], that the eyes that see my sin Would look on me with love and watch me rise again?
Who [are we], that the voice that calmed the sea, Would call out through the rain And calm the storm [for you, and for] me? Still You hear [us when we call]. Lord, You catch [us] when we are falling. And You have told [your chosen who we are, we are yours.] (Casting Crowns, Who Am I) And that my friends, is why we must endure, because we are His.
Consistent with this, Christ is seeking those who are steadfast, immovable, always abounding in the work of the Lord, knowing that our labor is not in vain in the Lord" 1 Cor. 15:58 (NKJV) Paul is not saying, only when the sun is shining or when we can see the rainbow after the storm, but "always abounding in the work of the Lord."
Remember my friends "Our God "gives power to the weak, And to those who have no might He increases strength. Even the youth shall faint and be weary, And the young men shall utterly fall, But those who wait on the Lord Shall renew their strength; They shall mount up with wings like eagles, They shall run and not be weary, They shall walk and not faint." Isaiah 40:29-31 (NKJV)
My friends, Christ is calling as He looks for the faithful and the strong who can take a punch and still stand firm for what is right "though the heavens may fall and the earth may pass away," we must persevere, Remembering at times we may not always recognize the night from the day, but we must keep our eyes upon that distant shore, the promise land, as we "keep our soul anchored in the Lord."
So friends stay focused, remain faithful, love one another and endure till the end and never forget to STUDY&PRAY