Feb, 24, 2015
MY FRIENDS, I WILL HIDE IN THE DARK, BUT DARKNESS IS AS LIGHT TO GOD, SO WHERE DO WE GO?
"Where can I go from your Spirit? Where can I flee from your presence? If I go up to the heavens, you are there; if I make my bed in the depths, you are there. If I rise on the wings of the dawn, if I settle on the far side of the sea, even there your hand will guide me, your right hand will hold me fast. If I say, "Surely the darkness will hide me and the light become night around me," even the darkness will not be dark to you; the night will shine like the day, for darkness is as light to you. Psalm 139:7-14 (NASV)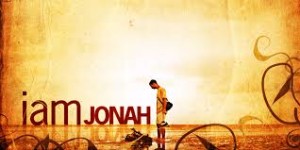 My fiends, Let's go to Jonah chapter 1, to a man who tries to hide  from God. "The word of the Lord came to Jonah the son of Amittai saying, "Arise, go to Nineveh the great city and cry against it, for their wickedness has come up before Me."
But Jonah had other plans Just like His chosen today; this is not what I signed up for we say. But  Jonah runs to Tarshish, forgetting God's presence is everywhere. So he finds a boat headed that way and off he goes.
As he hides out in the bottom of the ship God needs Jonah's attention, my friends, what will God do to get ours, for Jonah He "hurled a great wind on the sea so that the ship was about to come apart.
At that point every man on deck begin to pray to their gods, hoping somehow their fake gods would stop the storm that was brought about by the only true God, Jehovah. The Captain then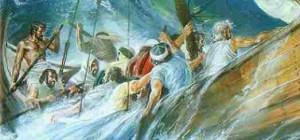 goes below and finds Jonah peacefully sleeping.
Oh my friends, the mercy and grace of God which allows us to sleep peacefully each night as the turmoil and conflicts of this world abounds more and more out of control, a world that is being carried away on a train by Satan closer and closer each day to perdition. That my friends is why we must take the good news of the gospel to the Ninevah's of this world.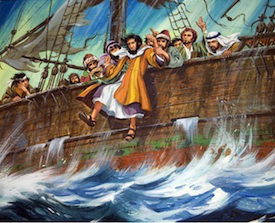 The captain finds Jonah below and cries out like the world cries to us "How is it that you are sleeping? Get up, call on your God. Perhaps your God will be concerned about us so that we will not perish." My friends, are we listening, do we care, our God is the only God that saves.
Everyone is now on Deck, they cast lots to see "on whose account this calamity has struck them." and of course it falls on Jonah, they question Jonah. who are you?
And so He witnesses to the crew about the Alpha and Omega. My friends in other words he took the church to the community. Oh the grace and mercy of God to get His message too a dying world.
So Jonah tells them about his God who made the  heaven and earth, the all-knowing all-powerful, omnipresent God. We all know the events after this, Jonah is tossed overboard into the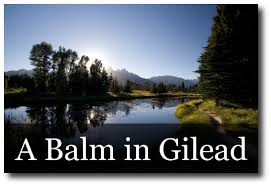 sea. He spends three days in the belly of a fish until he realizes he needs to follow God's plan for his life.
But my friends, where I need you to focus today is when they picked up Jonah, and threw him into the sea, and once again God says "peace be still" and the raging sea stopped its raging, which is the beginning of this crews real journey in life when Jonah follows God's plan and witnesses to them they "begin to fear the Lord greatly, and they offered a sacrifice to the Lord and made vows.
Oh the many ways God has for us to serve Him if  our passion is to serve, because He is every man and woman's  "balm in Gilead, The healing for our sorrow and the  Healing for our pain and the Healing for our spirit, for there is shelter from the rain and storms of this life if we all believe and endure"
So friends stay focused, remain faithful, love one another and endure till the end and never forget to STUDY&PRAY