Is television detrimental to our health and salvation?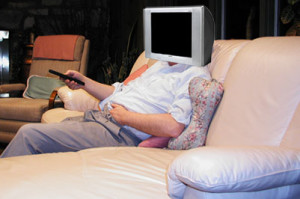 Our over saturation of television programming has turned the United States into a nation of zombies who are easily manipulated by government and corporate advertisers.  Sin and Satan's desire that we all lose sight of Christ saving grace, while forgetting that life is too short to squander away in front of the TV.
For we only have but a short period of probation, from birth to death in which to prepare for God's pure and holy kingdom. Watching TV immediately shifts our brain activity from beta waves, associated with logical thought and analytical processes; to alpha waves, commonly associated with susceptibility, suggestibility and an unfocused state of mind which lacks the act of knowing, perceiving, or remembering the things God deems beneficial, and precious for our salvation.
Recent studies suggest that the more TV you watch, the more likely you are to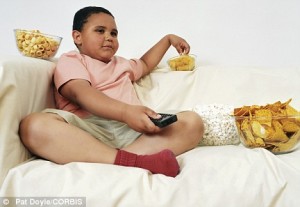 develop a host of health problems and to die at an earlier age. In the Journal of the American Medical Association, researchers combined data from eight such studies and found that for every additional two hours people spend glued to the tube on a typical day, their risk of developing type 2 diabetes increases by 20% and their risk of heart disease increases by 15%.
And for every additional three hours the study participants spent in front of the TV, their risk of dying from any cause during the respective studies jumped 13%, on average. Extended TV watching has reached epidemic proportions, especially in the U.S. The connection between TV and disease isn't a mystery. TV watching eats up immeasurable time that could be spent walking, exercising, or even just moving around, But most important it takes away time that should be spent studying the word of God and doing His will.
One day God will question us about our time and say to each and everyone, EITHER "Well done, good and trustworthy servant! Since you've been trustworthy with a small amount, of time I'll put you in charge of a large amount (Eternal life). Come and share your master's joy!" OR, He will ask you, one final question, why was, house wives of Atlanta, Scandal, DWTS, The Voice, and Grays Anatomy more important then studying my word and doing my will? And the saddest words we will ever here repeated, He will say, I know you not.
In Ephesians 5:15-17 Paul states "Look carefully then how you walk, not as unwise but as wise, making the best use of the time, because the days are evil. Therefore do not be foolish, but understand what the will of the Lord is",Moses had seen an entire generation wander aimlessly in the desert because they refused to believe God's word. Instead, choose to believe the ten spies who said the land God had promised them was too difficult to conquer.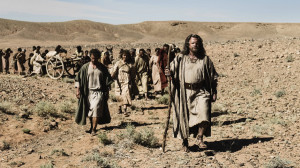 Therefore 40 years, the Israelites roamed the wilderness, with no specific destination in sight. An entire generation was sentenced to an inactive and slothful wandering in the wilderness. It has been estimated that an average of almost 90 people a day died during those years. Then only Moses, Joshua and Caleb remained to represent the generation that left Egypt. Many of us experience this same dilemma, wandering in the wilderness of TV! TV! And More TV as the years flies by.
We must realize as Christians our stay on this earth is only for a little while. Time is precious, and how we spend and use it for God's glory and honor, is of vital importance to our spending eternity with Christ. God in the wise foresight and anticipation teaches us how we should be discerning and perceptive about the proper use of our time.
The time never should come in a Christian's life here on earth. When, if he were asked to mention the period of his greatest love to Christ, he would not say without thinking, "Right at this present moment. And we as future citizens of Gods pure and holy society will never realize the importance of that statement and what it means to our salvation.
By allowing the foolishness of what we watch on TV to consume our precious time that should be spent focusing on our love for Christ and how he changes our lives each day as we study His word. The constant watching of TV only allows us to loose sight of our journey here on earth, as it begins to influence our lives, and not God's word and His relationships with us.
As Fenelon tells us, "Time is given to us to prepare for eternity." And we may also reverse that statement and say – eternity is given to prepare us for time. But if we fail to live out our time wisely here on earth by watching those things on TV, that takes our focus away from Christ. Then, our character becomes what we watch on TV and not what the Spirit of God prepares us for.
So my friends, today decide to turn off that TV and spend each precious moment you have left on this earth searching to capture the mind and character of Christ. In 2 Peter 3:8-11 Peter tells us But do not overlook this one fact, beloved, that with the Lord one day is as a thousand years, and a thousand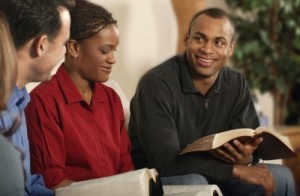 years as one day. The Lord is not slow to fulfill his promise as some count slowness, but is patient toward you, not wishing that any should perish, but that all should reach repentance.
But the day of the Lord will come like a thief, and our works, and time, that are done on this earth will be exposed. So my friends let's decide today, to give it all to the Master. Of course the first step is to turn off your TV and open the word of God as you stay focused on His promises, and continue to tell yourself "This world is not my home. I'm just passing through my treasures are not here but laid up somewhere way beyond the blue. I can fill the presence of God's Spirit each day as the celestial Angels beckons me from heaven's open door. And that is why I can never feel at home on this earth anymore. Oh, Lord, I know there is no friend like you, so please continue to lead, guide and show me, to live throughout eternity with you, what must I do?"
The answer is very simple. Open up the word of God and study as if your life depended on it, because it does. As John says in John 6:63 It is the Spirit who gives life; the flesh profits nothing. The words that I speak to you are spirit, and they are life.