July 22, 2013
JESUS LOVES ME THIS I KNOW , FOR THE BIBLE TELLS ME SO
For the word of God is alive and active. Sharper than any double-edged sword, it penetrates even to dividing soul and spirit, joints and marrow; it judges the thoughts and attitudes of the heart. Hebrews 4:12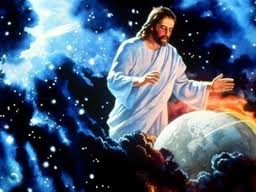 Gen 1:1 "In the beginning God created the Heavens and the earth" "In the beginning was the Word, and the Word was with God, and the Word was God. The same was in the beginning with God. All things were made by him; and without him was not any thing made that was made. In him was life; and the life was the light of men. And the light shineth in darkness; and the darkness comprehended it not. John 1:1-5
"The creative force that brought about the existence of our world is the Word, And the Word is God. The Word at the beginning of John 1 is linked by this passage to the first words spoken by God at the beginning, when he says "'Let there be light' and there was light." (Genesis 1:3) "Every command is a promise; accepted by the will, and received into the soul, and it also brings with it the life of the Infinite One. It transforms our nature, and re-creates our character into the image of God."-Ellen G. White.
The world was created by the Spoken Word of God (Genesis 1). This world and the very existence of life was conceived by God in the spirit, "Now the earth was formless and empty, darkness was over the surface of the deep, and the Spirit of God was hovering over the waters. (Gen 1:2.) So what this tells me as a Child of God, is that God's Word brings about real transformation since God is the Word. But that transformation can only come about when we give it all to the master and then ask God our Creator to recreate our mind and body in His image.
But we also must have faith and believe. faith in God is all about asking God for what we want and believing we will receive it, as we allow our focus, to bring Glory and honor to Him. And once our lives are transformed then we will begin to understand through faith in the Word of God, that a miracle has truly taken place in our lives. Paul says in 2 Cor 5:17-18 "If anyone is in Christ, he is a new creation; the old has gone, the new has come! All this is from God. who reconciled us to himself through Christ and gave us the ministry of reconciliation"
And once we have completely given it all to the master we allow His full armor of righteousness to protect us against the forces of evil who's only goal is to destroy us. And we must always remember that The Word of God is the foundation that transforms our lives, and when the mind is saturated with the Word. A transformed life brought on by the Word of God is the greatest confirmation of a true renewal of our character.
And When our character is rooted in the Word of God, and continues to be rooted, it is an experience that lasts throughout our lives here on earth and will also carry us throughout the cessless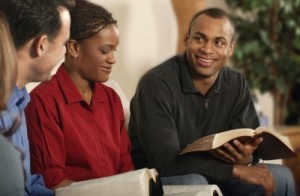 ages of Eternity. Also if we lack knowing the knowledge in Gods word, due to the fact that we allowed the things of this world to become detrimental to our salvation, because they were more important than studying the Word of God and doing His will. Than if that is the case, our warning comes from God, in the book of Hosea when he says  "my people are destroyed from lack of knowledge." Hosea 4:6
Also Paul states Consequently, faith comes from hearing the message, and the message is heard through the Word about Christ. God says whosoever believes on His Son, Has pardon obtained and a new life begun; His sins blotted out, not by aught he has done, But thru' faith in the Word of God! Romans 10:17. states. Gods Word, The only Begotton Son of God died in our place on Calvary so we could live with Him in His pure and holy kingdom Oh what love But it did not end with His death on the cross.
He rose again and the word still lives! Yes He lives. And I serve that same risen Savior because He is in my life today. I know that He is living in me, no matter what men may say. I know He lives inside of me, because I see His hand of mercy grace and love as I begin to truly hear, and feel God and His Word, while allowing my faith to grow in His grace. And once we continue to focus on Christ and His word. We will find that God will glorify Himself in us through His Word, and we have God's assurance, which is based totally on His love for us BECAUSE THE BIBLE TELLS US SO. Paul also tells us in
Romans 5:7-9 "Very rarely will anyone die for a righteous person, though for a good person someone might possibly dare to die. But God demonstrates his own love for us in this: While we were still sinners, Christ died for us Since we have now been justified by his blood, how much more shall we be saved from God's wrath through him!" And through our faith in God and His word the most amazing strength becomes ours, and we learn to sing, praise and glorify Him no mater what situation or circumstances we may find ourself in.
Paul tells us in Ephesians 3:17-19 So that Christ may dwell in your hearts through faith—that you, being rooted and grounded in love, may have strength to comprehend with all the saints what is the breadth and length and height and depth, and to know the love of Christ that surpasses knowledge, that you may be filled with all the fullness of God. Paul also tells us in Romans 5:3-5 More than that, we rejoice in our sufferings, knowing that suffering produces endurance, and endurance produces character, and character produces hope, and hope does not put us to shame, because God's love has been poured into our hearts through the Holy Spirit who has been given to us.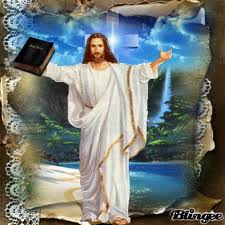 And So my friends remember that JESUS LOVES ME THIS I KNOW FOR THE BIBLE TELLS ME SO And because of His love Paul tells us in Ephesians 1:10-14 to be put into effect when the times reach their fulfillment to bring unity to all things in heaven and on earth under Christ. In him we were also chosen, having been predestined according to the plan of him who works out everything in conformity with the purpose of his will, in order that we, who were the first to put our hope in Christ, might be for the praise of his glory. And you also were included in Christ when you heard the message of truth, the gospel of your salvation. When you believed, you were marked in him with a seal, the promised Holy Spirit, who is a deposit guaranteeing our inheritance until the redemption of those who are God's possession to the praise of his glory.
So my Friends, Today, please accept Christ invitation. "Here I am! I stand at the door and knock. If anyone hears my voice and opens the door, I will come in and eat with that person, and they with me." Rev. 3:20
So my friends today. Stay focused, remain faithful, love one another and endure till the end and never forget to STUDY&PRAY