April 26, 2016
MY FRIENDS, ARE WE SLAVES AND DON'T KNOW IT?
"When you see the ark of the covenant of the Lord your God, and the Levitical priests carrying it, you are to move out from your positions and follow it, then you will know which way to go, …." Joshua 3:1-4 (KJV) This was the directions from Israel's new leader Joshua, who replaced Moses in leading the Children of Israel to the promise land. He was Chosen, because he had been this way before and he knew where he was going.
So today my friends as God's Chosen, the journey we are now traveling to the promise land stands on the other side of our trials that we must encounter as this controversy continues between Good and evil. But Christ, knows the rough terrain and the rocky roads we must travel and what delicate steps we must take to follow in His footsteps.
Christ tells us, "the one who is victorious, I will give the right to sit with me on my throne, just as I was victorious and sat down with my Father on his throne." Rev. 3:21 (NIV) But we must believe that we can defeat Satan. But only through Christ who traveled this same journey we travel is it possible. In Luke 8:26-39 (NKJV) Christ arrived at the country of the Gerasenes.
As he stepped on land, a man who had many demons in him and lived in the tombs saw Jesus and fell down before him and shouted at the top of his
voice, "What have you to do with me, Jesus, Son of the Most High God? "I beg you, do not torment me" for Jesus had commanded the unclean spirit to come out of the man who was bound and a slave to Satan ……..Then Jesus asked him, "What is your name?" He said, "Legion," for many demons had entered him.
My friends, we must now ask ourselves how many times do we have to turn our back on God before Satan takes full control by making us an offer we cannot refuse which makes the things of this world look much more appealing than life eternal? And once we allow Satan to manipulate our journey we then become a slave to sin with many Legions occupying our life.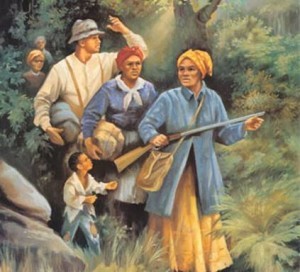 Remember, if we do not occupy our minds with Gods word and Spirit but only with the things of this world. Even though at one time in our life we had given our life over to Christ and served Him faithfully. If we become complacent and quit allowing God's Spirit to transform our life through His word. We then allow self and the forces of evil to "return and when they enter our life again, they will find it swept and put in order but not occupied.
My friends, we must understand when our life is not occupied with the things above only the things of this earth. Then Satan will brings in ["Legions of demons to enter our life and dwell within us, and our life now becomes worse than the first time we allowed Christ to take control" Luke 11:23-26 (NKJV) Harriet Tubman the "African-American abolitionist, during the American Civil War, was a Union spy.
Born into slavery, Tubman rescued approximately seventy enslaved families and friends, using the network the "Underground Railroad."  She is quoted as saying" "I freed a thousand slaves, I could have freed a thousand more if only they knew they were slaves." My friends do we understand we are slaves. But Christ knows the way to freedom and life eternal if we will only "lay aside every weight, and the sin which doth so easily beset us, Heb. 12:1 (NKJV)