March 30, 2017
MY FRIENDS, WHAT WILL IT TAKE TO PERSUADE US TO LOVE CHRIST AND OTHERS?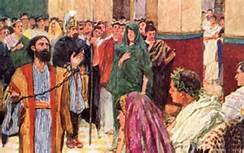 The chilling words of Agrippa, after he listened to God's chosen vessel Paul speak about the saving grace of Christ. "Almost thou persuadest me to be a Christian." Acts 26:28 (KJV) What a sad scenario for Agrippa and many Christians who say Lord, Lord with no conviction. My friends we sit in our various churches each week, the appeal is given for a show of hands, or a move to the alter down front if one is partially convicted, to give it all to the Master.
We often respond in one way or the other motivated usually by the surroundings we find ourselves in when the Spirit is appealing to everyone for a decision. To most this is an adequate response. You figure, I am a faithful trustee, deacon, or deaconess. I am liberal in my given, I'm perfectly satisfied with the direction I am headed in life, for "I am rich, and have gotten riches, and have need of nothing."
I understand what is required of God. My position, or status in the community and church should satisfy any real genuine need for any type of relationship with Christ. But friends, "There is a way which seemeth right unto a man; but the end thereof are the ways of death." Prov. 4:12 (KJV)
If we go to the parable of the wheat and tares in Matt 13:24-30 (KJV). Both look the same the difference is, wheat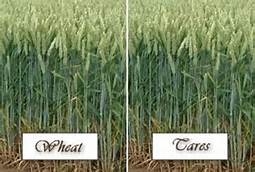 is a marketable crop, tares are just weeds with no redeeming value. So, how far must grace abound before we are persuaded to give it all to Christ? Paul's response to Agrippa was, "I would to God, that not only thou, but also all that hear me this day." Acts 26:29 (KJV)
That is the position we must take as we witness for Christ in the final days of this life's history. A message of conviction that guides one to surrender their lives to Christ. But, first we must be convicted ourselves through the persuasion of the Spirit of God who tells us, your ears shall hear a [whisper] behind you, saying, "This is the way, walk in it," whenever you turn to the right hand or whenever you turn to the left." Is. 30:21 (NKJV)
which tells us whatever situation or circumstances we find ourselves in there is a voice that continually tries to persuade you and I to walk in the right direction because the direction of that whisper if we can distinguish the difference in God's Spirit over the forces of evil is the direction that leads to life eternal, "so walk in it" as we go forward with cross in hand and a faithful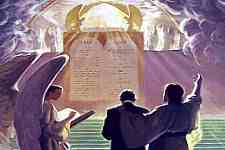 disciple of Christ.
One day Agrippa's only response to the One who died so that He may be persuaded to give His all to the Master will be; Christ, the conditions I felt were unattainable, those conditions to "love You with all my heart, and with all my soul, and with all my mind. [Which you did say,] that was the first and greatest commandment.
And the second was like it; To love my neighbor as I [should have] loved you. On these two commandments hang all the Law and the Prophets." Matt 22:37-40 (NKJV) My friends I can't answer for Agrippa, but what about You and I, will we also tell Christ the conditions were unattainable. If so we must also be able to explain why.