Sep. 28, 2015
MY FRIENDS, DO WE KNOW AT WHAT MOMENT, "AND THEN" HAPPENS?
"The angel of the Lord pulls back the curtain." Oh how close the god of this world and all who follow him are to reaching their cup of indignation as God stands up while saying to His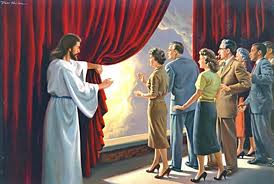 Son, let's go get my Children, heirs to our kingdom.
As we study God's word and look behind that curtain it reveals to us what is being played out each day in the media as "breaking news" becomes more the drug of choice that keeps our society focused on the chaos.
Matt 24:14 (KJV) states "this gospel of the kingdom shall be preached in all the world for a witness unto all nations; and then shall the end come." My friends "and then" should bring a child of God back to reality in this fast paced society as we focus on, at what moment in the next few days will the good news of the gospel have reached everyone among the chaos.
Of course, the god of this world will make sure it never become "breaking news." Paul tells us "For you yourselves are fully aware that the day of the Lord will come like a thief in the night.
While people are saying, "There is peace and security," then sudden destruction will come upon them as labor pains come upon a pregnant woman, and they will not escape.
But you are not in darkness, brothers, for that day to surprise you like a thief." 1 Thess. 5:2-4 (ESV) But my friends it now becomes Personal because Paul is talking to God's chosen who have "Set our mind on things above, not on things on the earth." Col. 1:2 (NKJV)
To God's faithful "breaking news" only happens when the "Lord himself shall descend from heaven with a shout, with the voice of the archangel, and with the trump of God: and the dead in Christ shall rise first: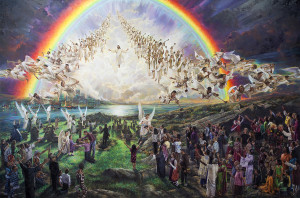 Then we which are alive [and] remain shall be caught up together with them in the clouds, to meet the Lord in the air: and so shall we ever be with the Lord." 1 Thessalonians 4:15-17 (NKJV) My friends, God is finishing up His work here on earth and it is moving at record speed.
"It took radio broadcasters 38 years to reach an audience of 50 million, television 13 years, and the internet just four." "Information and communications technology (ICT) have changed the face of the world.
Computers, cell phones, the Internet and satellite technologies, enables people to communicate throughout the world instantaneously,"  "The Internet is the fastest growing instrument of communication in the history of civilization."
So my friends what moment in the next few days will we not be aware of God's word reaching everyone, "and then," the end will come. "Remember, therefore, what you have received and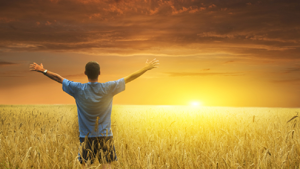 heard: hold it fast and repent. But if you do not wake up, I will come like a thief, and you will not know at what time I will come to you." Rev. 3:3 (KJV)
My friends if you have a passion to give it all to the Master and do His will, then God's grace still abounds within as He allows his spirit to lead each of His chosen on this Journey to the Promise land.
So please go before our Savior day and night seeking his presence, and hold on to his promises through faith, while not letting  go until His appearing, and we see Him face to face, as he tells His Children "well done thou good and faithful servant."
My Friends, where there is no vision, the people perish…..Proverbs 29:18 (KJV)