Nov. 2, 2017
MY FRIENDS, HOW LONG HALT YE BETWEEN TWO OPINIONS?
"How long halt ye between two opinions? if the Lord be God, follow him: but if Baal, then follow him. And the people answered him not a word." 1 Kings 18:21 (KJV)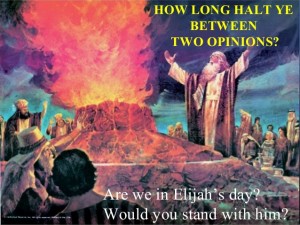 "Not one in that vast assembly dare reveal loyalty to Jehovah. Like a dark cloud, deception and blindness had overspread Israel. Not all at once had this fatal apostasy closed about them, but gradually, as from time to time they had failed to heed the words of warning and reproof that the Lord sent them. Each departure from right-doing, each refusal to repent, had deepened their guilt and driven them farther from Heaven. And now, in this crisis, they persisted in refusing to take their stand for God." (E.G. White, Prophets and Kings: p 147)
My friends, but gradually, or little by little or maybe in small increments, however we care to define the situation, it happen over time. That dark cloud of deception and blindness had overtaken Israel and it will also be our downfall if we fail to heed the words of warning that "Babylon the great is fallen and has become a dwelling place of demons, a prison for every foul spirit, and a cage for every unclean and hated bird!
For all the nations have drunk of the wine of the wrath of her fornication, the kings of the earth have committed fornication with her, and the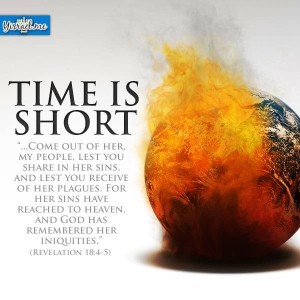 merchants of the earth have become rich through the abundance of her luxury." Rev. 18:2-3 (NKJV) My friends, there is a contamination of impurity that the angel of God is warning us to flee from.
Even the appearance of evil we must escape. There must be a total transformation of mind, body and soul though Gods word and Spirit. Jer. 51:6 (NIV) tells us to "Flee from Babylon! Run for your lives! Do not be destroyed because of her sins. It is time for the LORD's vengeance; he will repay her what she deserves."
My friends, the world has "been arraigned before the bar of divine justice and found guilty on five counts starting with (a) pride and arrogance (b) materialism and luxury (c) adultery (d) deception and (e) persecution of individuals based on their membership in a religious, ethnic, social, or racial classes" (SDA Bible Commentary). God's long suffering is about to end, today it must become personal between God and ourselves. So, "How long halt ye between two opinions?
If the Lord be God, follow him: but if [the things, and god of this world seems more appealing] then [our Savior has allowed us to make that choice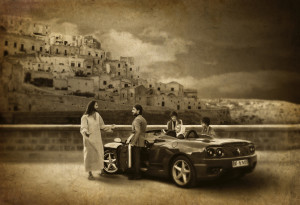 and follow Satan.] Therefore, Salvation is based on our total commitment to Christ and our faith and endurance to go all the way with cross in hand. Therefore, "if any man [or woman] will come after me, let him deny self, and take up his [or her] cross daily, and follow me." Luke 9:23 (JKV)
My friends, not to deny self daily, then Satan little by little does the transformation. Therefore, Christ warns us to "Enter through the narrow gate. For wide is the gate and broad and easy to travel is the path that leads the way to destruction and eternal loss, and there are many who enter through it. But small is the gate and narrow and difficult to travel is the path that leads the way to [everlasting] life, and there are few who find it." Matt. 7:13-14 (AMP) So, "How long halt ye between two opinions?