Sep. 25, 2012
LET'S TALK ABOUT HEAVEN!!!
The Daily Climb. I have always talked about getting to God's pure and holy kingdom. The FAITH, FOCUS, LOVE, HUMILITY, AND ENDURANCE, each of us must develop within our character while maintaining a heartfelt prayer life, as we study God's word daily while seeking  His Spirit. I have tried to give you and myself insight, and directions as we move closer into the final day's of this life's history. But I have never talked about once the JOURNEY IS OVER. And we can finally be at peace. And say I made it, the journey was rough but I ENDURED.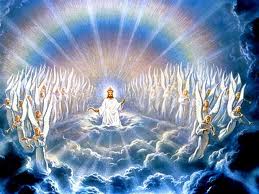 Well let's take a journey with Ms. White today "As we stand…..and all in solemn silence gazed on the cloud above as it draws nearer and becomes lighter, glorious, and still more glorious, till it is a great white cloud.
The bottom appeared like fire; a rainbow is over the cloud, while around it are ten thousand angels, singing a most lovely song; and upon it sits the Son of man. His hair white, and curly and lays on His shoulders; and upon His head are many crowns.
His feet has the appearance of fire; in His right hand is a sharp sickle; in His left, a silver trumpet….Jesus speaks: "Those who have clean hands and pure hearts shall be able to stand; My grace is sufficient for you."
At this our faces light up, and joy fills our hearts. And the angels strike a note higher and sing again, while the clouds draw  nearer to the earth. "Then Jesus silver trumpet sounds, as He descends on the cloud, wrapped in flames of fire.
He gazes on the graves of the sleeping saints, then raises His eyes and hands to heaven, and cries, "Awake! awake!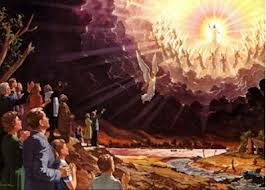 awake! ye that sleep in the dust, arise." Then there is a mighty earthquake. The graves are open, and the dead come up clothed with immortality.
The Redeemed shout, "Alleluia!" as we recognized our friends who had been torn from us by death, and in the same moment we are changed and caught up together with them to meet the Lord in the air.
"We all enter the clouds together, and seven days ascend to the sea of glass, then Jesus brings the crowns, and with His own right hand placed them on our heads. He gave us harps of gold and palms of victory.
Here on the sea of glass His faithful Children stand in a perfect square… And we were all clothed with a glorious white mantle …. Angels are all about us as we marched over the sea of glass to the gate of the city.
Jesus raised His mighty, glorious arm, lays hold of the pearly gate, swings it back on its glittering hinges and says to us, "you have washed your robes in my blood, stood stiffly for My truth, enter in." We all march in and fill that we have a perfect right in the city…….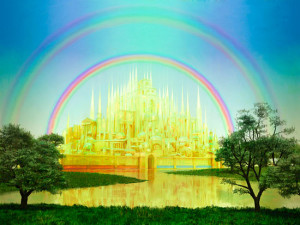 We try to call up our greatest trials, but they looked so small compared with the far more exceeding and eternal weight of glory that surrounds us that we can not speak them out, and we all cry out, "Alleluia, heaven is cheap enough!"
we then touched our glorious harps and make heaven's arches ring…. There we saw most glorious houses, most glorious to behold…."we see A field full of all kinds of flowers, and as we pluck them, we cried out, "They will never fade."
Next we see a field of tall grass, most glorious to behold; it was living green and had a reflection of silver and gold, as it waved proudly to the glory of King Jesus…. Soon we heard Christ lovely voice, saying,
"Come, my people, you have come out of great tribulation, and done My will; suffered for Me; come in to supper, for I will gird Myself, and serve you." We shout, "Alleluia! glory!" (From the writings of E.G. White)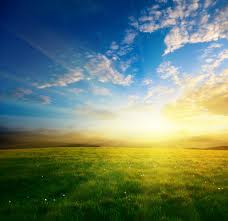 A vision can never do justice to the reality of what God Has prepared for HIS FAITHFUL CHILDREN WHO WILL ENDURE TILL THE END for Paul tells us in 1 Corinthians 2:9 But as it is written: "Eye hath not seen, nor ear heard, neither have entered into the heart of man the things which God hath prepared for them that love Him." My friends Christ calls, We still have GRACE for "Time measured out my days Life carried me along In my soul I yearned to follow God But knew Id never be so strong I looked hard at this world To learn how heaven could be gained Just to end where I began Where human effort is all in vain Were it not for grace I can tell you where Id be Wandering down some pointless road to nowhere With my salvation up to me"  (Larnelle Harris) But because of grace and Calvary. SALVATION AND HEAVEN IS OURS IF WE BELIEVE.
So my friends today. Stay focused, remain faithful, love one another and endure till the end and never forget to STUDY&PRAY