Nov. 21, 2013
MOVING BEYOND OUR FAITH BOUNDARIES!!!
"Therefore we do not lose heart. Even though our outward man is perishing, yet the inward man is being renewed day by day." 2 Corinthians 4:16
My friends God is challenging us today, to go beyond OUR FAITH BOUNDARIES as we seek our ETERNAL DESTINATION, GOD'S KINGDOM.  So today let's focus on the four Babylonian captives in Daniel chapters 1 and 3.
Daniel and his three companions Shadrach, Meshach and Abednego. Only these four captives out of all of Israel are mention as never wavering in their faith, and maintaining allegiance to God throughout their captivity. Their first faith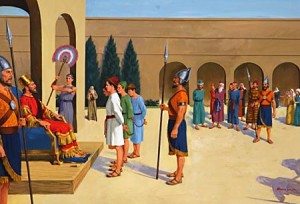 challenge was with the "Daily provision of the king's delicacies, and wine that came from his table." But as representatives of God, they knew His health requirements. "Therefore, whether you eat or drink, or whatever you do, do all to the glory of God."
So they present God's diet plan, and make a request "Please test your servants for ten days, and give us vegetables to eat and water to drink. Then the king interviewed them, none were found like Daniel and His companions. My friends what I need to let you know, only when you step out in faith will you have the Character and strength to go to the next level.
Remember with greater faith comes greater grace. There need never be asked "You of little faith, "why did you doubt?" God then allows Satan to help in producing strong characters. By putting God's faithful through Satan's sifting process.
But the good Shepherd tells us in John 10:14 "I am the good shepherd; I know my sheep and my sheep know me" So now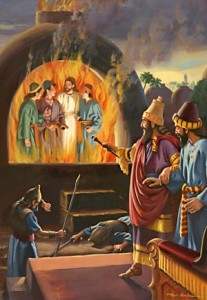 their  faith takes them beyond there FAITH BOUNDARIES when a day was appointed for all the multitudes to bow to an "idolatrous symbol of human power."
But the faithful need never compromise, because they have been tested in the flames of affliction before. My friends we must always stand firm for God. Remember we are not being challenged but God Himself. So their message to the King was short, and to the point "O Nebuchadnezzar, we have no need to answer you in this matter.
If that is the case, our God whom we serve is able to deliver us from the burning fiery furnace, and He will deliver us from your hand." As I study God's word no other phrase inspires me like the one's that comes next. Oh King, BUT IF NOT.
My friends that is the place I am working daily to get to when I can look kings and rulers in the face and say BUT IF NOT, let it be known to you, that we still will not serve your gods, nor worship the gold image which you have set up."
My friends this is what we strive for in moving beyond our FAITH BOUNDARIES. James 1:2-3 tells us "Consider it all joy, my brethren, when you encounter various trials, knowing that the testing of your faith produces endurance. And let endurance have its perfect result, so that you may be perfect and complete, lacking in nothing."
PERFECT RESULTS, COMPLETE, LACKING IN NOTHING, those words tells me my faith is "steadfast, unmovable, always abounding in the work of the Lord." My friends before Christ comes for the second time, our eternal destination will have to be based totally on our faith.
Like John Huss when he had been fastened to the stake, and all was ready for the fire to be lighted, the martyr was once more exhorted to save himself by renouncing his errors. "What errors," said Huss, "shall I renounce? I know myself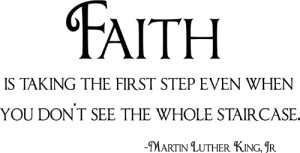 guilty of none. I call God to witness that…."
Friends what have you done lately to affirm the faith needed to take you beyond your FAITH BOUNDARIES. Have you made it a point to keep whatever day you worship on, holy, and unique, from the other six day's of the week. What about God's requirements for a 10 percent tithe, are we faithful no matter what may seem more important financially.
My friends Satan will challenge us in all of God' precepts, but endurance starts at point A and keeps going until the course is finish which is the kingdom of God. So please don't wait, seek God's presence today "for you know very well that the day of the Lord will come like a thief in the night." Are you ready HAVE you GONE BEYOND YOUR FAITH BOUNDARIES IN PREPARATION TO GREET HIM.
So my friends today. Stay focused, remain faithful, love one another and endure till the end and never forget to STUDY&PRAY