August 5, 2013
My Grace Is Sufficient For You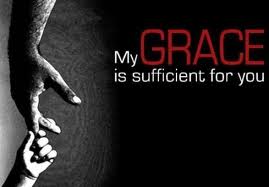 2 Corinthians 12:9 "And He said to me, "My grace is sufficient for you, for My strength is made perfect in weakness." Therefore most gladly I will rather boast in my infirmities, that the power of Christ may rest upon me. My gracious favor is all you need. My power works best in your weakness. The Greek word for sufficient means enough to meet a need or purpose; adequate, to be content, to raise a barrier, to ward off that which pushes us to one side.
Basically, sufficient means grace that is enough, but not super abundant, fantastic, huge, or incredible. Sufficient does not say to us, Grow up. It doesn't say, Get over it. It doesn't say, You'll understand it better by and by. It just says, My grace is sufficient for you It says, have faith, I am standing with you in this situation.
Jesus see's beyond it all, to the power of grace, kindness, caring and compassion for all of His children who suffer in this sinful world. As we contemplate the big picture of God's grace, we will begin to recognize God does not place under restrictions or limit access to His grace. In fact, we are reminded in Ephesians chapter 2 that God blesses us according to the surpassing riches of His grace.
God's grace, you might say, is superabundant or present in great quantity. Every benefit that we experience spiritually is by grace. One of the most wonderful statements made about our Lord comes from John in John 1:14 who said of Jesus Christ, "He was full of grace." The wondrous fact of His being full of grace was followed in John's gospel by an even more thrilling reality, "For of  His fullness have all we received and grace upon grace."
As long as we live in a world where our lord reigns we will accumulate grace upon grace. Paul states in Romans 5:2 By whom also we have access by faith into this grace wherein we stand, and rejoice in hope of the glory of God Yes we all stand in grace. We live in the environment and atmosphere of His grace. It's the air that we breathe spiritually. And in Romans 5:17 Paul adds that God bestows upon us as we stand in the realm of grace an abundance of grace.
So no matter what, His grace is sufficient, James 4:6 adds, "He gives a greater grace." It is greater than you think. We don't know why certain struggles and trials are good for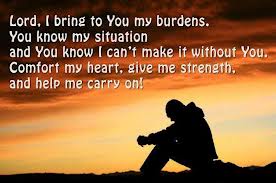 us in this world. We don't know why we are presented with decisions between finding immediate satisfaction and learning to look at the eternal aspects God shows us. But all we need to know is there is no other God. He is our Savior, our Creator, our heavenly Father our comforter and He loves us more than we can ever imagine.
When we humbly present our life to our heavenly Father and say, "Our, Father, You alone are God. I am your child. please, please, Please guide me through each situation and circumstances of my life as I become a witness of your grace, and please allow me to glorify Your holy name. just For Your name's sake, because you are God and God along and when I have done your will in my life and praised your name, then through your mercy, if you see fit, please give this sinner greater grace.
It is because of your grace I have been crucified with Christ; and it is no longer I who live, but Christ who lives in me; and the life which I now live in the flesh, I live by Faith in the Son of God, who loved me, and delivered Himself up for me." And as I prepare my life for God's pure and holy kingdom I will continue to allow Christ to rescue me from sin and set me on His own path to righteousness. Because He is the only Son of God who provided the atoning sacrifice that everyone needs. He is the unique channel of God's grace, love and salvation.
To me, Jesus is exclusive and inclusive at the same time the narrow way and the Savior of the entire world the only way of salvation, yet available for all. God's grace, shown most perfectly in Jesus Christ, is exactly what everyone needs, and the good news is that it is freely given to all. It's great news, and it's worth sharing to everyone we come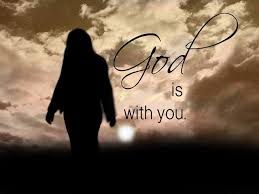 in contact with.
As Christians we believe that a resurrected Christ has conquered death, and therefore death will never pose a barrier to his ability to lead and guide his people who trust him for His grace and salvation. As we trust his word to guide us in all that we do each day please my friends, keep trusting even When at times it seems all you do is pray to God To take the storm away, but instead of it going away when we think it should, all you hear Him say is:
My grace, My grace My grace is sufficient. But if we have faith we will realize His grace is truly sufficient, because He is always preparing us who have faith for something we cannot handle right now, He is always making each of us ready Just because He cares, while He provides us with the armor we will need to carry out the next matter in our life, and finish this race here on earth, and enter his pure and holy kingdom.
So my friends today. Stay focused, remain faithful, love one another and endure till the end and never forget to STUDY&PRAY