June 27, 2015
MY FRIENDS, ONE DAY SOON WE CAN TELL THE STORY OF HOW WE MADE IT OVER!!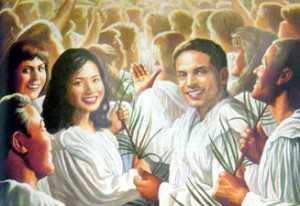 After this I looked, and behold, a great multitude that no one could number, from every nation, from all tribes and peoples and languages, standing before the throne and before the Lamb, clothed in white robes, with palm branches in their hands. Rev.7:9 (KJV)
Today, I need you to feel a passion, and an excitement that keeps you focused, on Christ second coming because it won't be long my friends before we put on our robes, and tell the story of how we made it over."
And every day it gets that much closer to becoming a reality, and the Children of God, seeing the clouds open up, and the one who gave it all so that we may live throughout the ceaseless ages of eternity, coming to take us home.
For His promises to His faithful are sure "We who are alive and remain until the coming of the Lord will by no means precede those who are asleep. For the Lord Himself will descend from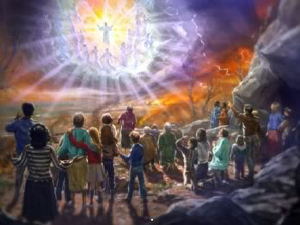 heaven with a shout, with the voice of an archangel, and with the trumpet of God. And the dead in Christ will rise first.
Then we who are alive and remain shall be caught up together with them in the clouds to meet the Lord in the air. And thus we shall always be with the Lord. 1 Thess. 4:15-17 (NKJV) Always my friends, meaning infinite, forever, with no ending.
After we see the face of our savior, as we sit at the banquet table of the redeemed "We then will lift our hands in total admiration" as we proclaim our personal journey of how we made it over and it won't be hard for us to remember, because "it was always darkness before dawn."
But now we will forever see the light of the Son, for the vision of hope in His Word sustained us along with our faith and God's spirit because there were times in our life that became blurred by the god of this world who would captivate our attention with the things of this world.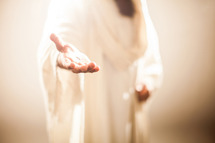 But no greater love then our God for his promises kept reminding us "I will lead the blind by ways they have not known, along unfamiliar paths I will guide them; I will turn the darkness into light before them and make the rough places smooth.
These are the things I will do; I will not forsake you. Isaiah 42:16 (KJV) So many times we turned our back on God as we would move away from His presence, but God's love abound over everything and here we are, we sit among the redeemed.
His promises were true. His word was sure. Now eternity awaits and at that moment "We will lift our hands in total adoration once again, for we just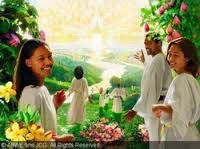 can't stop praising His name, because we always knew our "Redeemer liveth."
His grace was always sufficient and He would "never put more on us then we could bear." He was always our "shelter through the storm." "He would always lead us in paths of righteousness, For His name's sake."
"Human language is inadequate to describe the reward of the righteous. It will be known only to those who behold it…." (E.G. White) Soon my friends we will be home, and throughout eternity we can praise God's name, as we look at the scares on his brow, from the crown of thorns that was placed on His head and on his feet and hands from where He was nailed to that cruel cross, We will always be reminded of "how we made it over."
So friends stay focused, remain faithful, love one another and endure till the end and never forget to STUDY&PRAY