Feb 23, 2017
MY FRIENDS, HOW MANY ARE ACCUSED OF DERELICTION OF DUTY?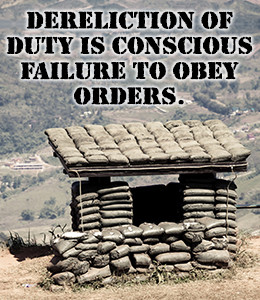 In the context of our salvation what that implies is "a soldier in the army of God who is guilty of neglect of duty and has willfully refused to perform his or her duties (or follow a given order) or is unable to act in accordance to God's will, either they are asleep, or their focus has been taken off of the things above, onto the things of this world and now we are unable to perform our duties satisfactory. "We are neither cold nor hot….
And because we are only lukewarm…..God wants to spue us out of His mouth." Rev 3:14-16 (KJV) My friends, have we fallen asleep while on duty? Or do we just not care? Or do we justify our attitude by convincing ourselves, "where is this 'coming' He promised? Ever since our ancestors died, everything goes on as [usual,] since the beginning of creation." 2 Peter 3:4 (NIV)
My friends, serving Christ has only become a distressing chore because doing God's will is no longer a deed of love simply for what was done for us on Calvary. Matt. 25:14-30 (NIV) The narrative begins: "A man goes on a journey, called his servants and entrusted his wealth to them.
To one he gave five bags of gold, to another two bags, and to another one bag, each according to his ability. Then he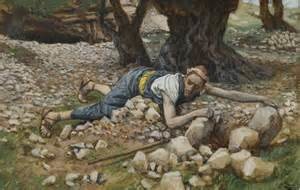 went on his journey………..The man who had received one bag went off, dug a hole in the ground and hid his master's money. "After a long time the master of those servants returned and settled accounts with them.
The man who had received five bags of gold brought the other five. 'Master, he said, 'you entrusted me with five bags of gold. See, I have gained five more. "His master replied, 'Well done, good and faithful servant!……. "The man with two bags of gold also came. 'Master, he said, you entrusted me with two bags of gold; see, I have gained two more………. "His master replied, 'Well done, good and faithful servant!
Then the man who had received one bag of gold came. 'Master,' he said, 'I knew that you are a hard man, harvesting where you have not sown and gathering where you have not scattered seed. I was afraid so I hid your gold in the ground. See, here is what belongs to you His master replied, You wicked, lazy servant!………."
My friends, that's as far as we need to go with that narrative, "you wicked and lazy servant." Not my words but Christ. The one who soon would walk the Via Dolorosa to Calvary to die for each of our sins even before they became sins. "Many whom God has qualified to do excellent work accomplish very little, because they attempt little.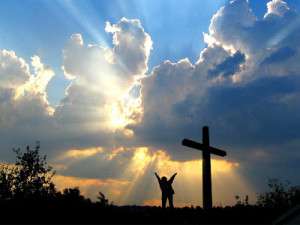 Thousands pass through life as if they had no definite object for which to live, [and] no standard to reach [My friends it is called DERELICTION OF DUTY.] Such will obtain a reward proportionate to their works.]" (E.G. White, Christ Object Lessons p 331)
So, today, ask ourselves. what do we really have to look forward to at Christ soon return, because He is coming back for a "chosen people, a royal priesthood, a holy nation, God's special possession." Now ask ourselves another question, do we fit into that category? Or have we incapacitated ourselves in such a way into the fabric of this world that we cannot give God our all?