MY FRIENDS, THE ANTICIPATION, CAN YOU ALSO HEAR THE SOUND AND SEE THE VISION?
"The Journey my friends we are almost at an end "I can say with full assurance "we are close enough to hear the sound of that mighty rushing wind and it's closer now than it's ever been. I can almost hear the trumpet as Gabriel sounds the chord at the midnight cry. And soon we'll be going home"
Can you hear the sound, can you look over your life and read the long list of sins that at times  gave you the feeling of those who have no hope. But today we tell ourself, we hear the voice of our FRIEND, our SAVIOR, our MEDIATOR, our ADVOCATE and our JUDGE the love of our life say NOT GUILTY.
AMAZING GRACE HOW SWEET THE SOUND. 13.1 miles, a half marathon, the closer you get to the finish line the anticipation, the adrenaline that flows through every fiber of you being, then you see a sign that says 3 miles to go.
Not long now and then you see the crowds, the cheers as you move down that final stretch, you cross over the finish line, it now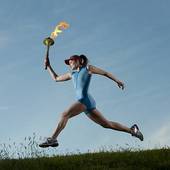 dawns on you, I've made it. I am a conqueror, such a small feat when you know there are runners that have accomplish far greater achievement, but today it's personal, it's about you, it's your victory.
The faith in knowing nothing was powerful enough to defeat self from finishing. The time, preparation, endurance and the heartfelt passion to make it happen and no one can ever take this victory away.
You receive a medal, you place it around your neck, it doesn't say that you came in first placed or finished in any particular time frame, what it says is you finished, you crossed over with your torch still in hand.
"What then shall we say to these things? If God is for us, who can be against us? …..Who shall bring a charge against God's elect? It is God who justifies. Who is he who condemns? It is Christ who died, and furthermore is also risen, who is even at the right hand of God, who also makes intercession for us.
Who shall separate us from the love of Christ? Shall tribulation, or distress, or persecution, or famine, or nakedness, or peril, or sword? As it is written: "For Your sake we are killed all day long; We are accounted as sheep for the slaughter. "Yet in all these things we are more than conquerors through Him who loved us.
For I am persuaded that neither death nor life, nor angels nor principalities nor powers, nor things present nor things to come, nor height nor depth, nor any other created thing, shall be able to separate us from the love of God which is in Christ Jesus our Lord." Romans 8:31-39
My Friends all who seek God's kingdom can say with full assurance that the ending too our story has been written, we can now say, we hear the sound of those trumpets because we are "confident of this very thing, that He which hath begun a good work in you will perform it until the day of Jesus Christ:" Phil. 1:6 (KJV)
Do you have the passion to finish, if you do God is looking for workers for "The harvest is plentiful, but the workers are few." At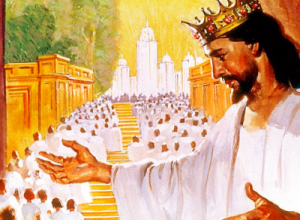 this point in your life Christ must become the center of all that's good and perfect, to be Christ disciple you must allow self to die as you deny everything that you hold dear to you in this world and take up your cross as you say "NOT MY WILL, BUT THY WILL BE DONE.
In addition, if you "seek first God's kingdom and his righteousness, all these things will be given to you" and that includes life eternal. If you have such faith and know you can endure long enough to cross over the finish line, then you cam now begin to hear the sounds of a great multitude, that have also crossed over with torches still in hand which no man can number, of all nations, kindreds, people and tongues, and you can also vision yourself standing before the throne and before the Lamb, clothed in a white robe and with a palm your in  hand. "SOON AND VERY SOON MY FRIENDS"!!!!!!!!!!!!!!!!!!!!!!!!!
So my friends today. Stay focused, remain faithful, love one another and endure till the end and never forget to STUDY&PRAY