August 27, 2013
TRAVELING BY FAITH, THE NARROW WAY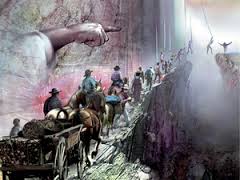 My friends let's take a trip with Ms. white today. "We start off with being in the company of a large body of people, preparing to take a journey, with heavily loaded wagons. As we journey, the road seems to ascend. On one side of this road is a deep vertical cliff; on the other is a high, smooth, white wall. As we journey on, this road grows narrower and steeper.
It eventually became so narrow that we could no longer travel with the loaded wagons. We then loosed them from the horses, took a portion of the luggage from the wagons and placed it upon the horses, and journeyed on horseback. The path continued to grow narrow.
We were then obliged to press close to the wall, to save ourselves from falling off the narrow road down the cliff. We then decided to remove the luggage from the horses, over the cliff it went. We continued, greatly fearing, as we came to the narrower places in the road, that we would fall over the cliff also.
But, a hand always seemed to take the bridle, and guide us over the perilous way. As the path grew more narrow, even horseback was no longer safe, we soon left the horses and went on foot, in single file, one following in the footsteps of another. At this point small cords were let down from the top of the pure white wall;
these we eagerly grasped, as they aided us in keeping our balance along the path, which finally became so narrow that we concluded that we could travel more safely without shoes or socks; so we slipped them from our feet, and continued the journey. We then thought of those who started this journey with us, who were not accustomed to privations and hardships who allowed the afair's of this world to consume them instead of the Word of God and His Spirit.
Where were they now? For they were no longer in our company. For at every stop, some were left behind, only those remained who had accustomed themselves through the years, to endure trials and hardships. The privations of the way only made those who were left on this journey more eager to press on to the end. The danger of falling from the pathway increased, as we pressed closer to the wall.
We then suspended nearly our whole weight upon the cords, exclaiming: "We have hold from above!" The same words were uttered by all who were left. We then shuddered as we heard the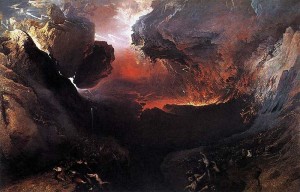 sounds, of mirth and revelry that seemed to come from the abyss below. For we all understood that Babylon the great was fallen, "and has become a dwelling
place of demons, a prison for every foul spirit, and a cage for every unclean and hated bird! For all the nations have drunk of the wine of the wrath of her fornication, the kings of the earth have committed fornication with her, and the merchants of the earth have become rich through the abundance of her luxury."And it all seemed to come from the abyss below.
We were then more anxious than ever to keep upon the narrow, difficult pathway. Much of the time we were compelled to suspend our whole weight upon the cords, which increased in size as we progressed. I noticed that the beautiful white wall was stained with blood, but I realized it was all as it should be.
For thoes who will come behind us, will know that others have passed the narrow, difficult way before them, and will conclude that if others were able to pursue this onward course, then they can do the same. And as the blood shall be pressed from their aching feet, they will not faint with discouragement; but, seeing the blood upon the wall, they will know that others have endured the same pain.
Our path soon ended. There was nothing now to guide our feet, our whole reliance must be upon the cords, which had increased in size, until they were as large as our bodies. Here we were for a time thrown into perplexity and distress. We inquired in fearful whispers, "To what is the cord attached?" A fearful struggle was before us. Should we fail here, all the difficulties of our journey that we had experienced would be for naught.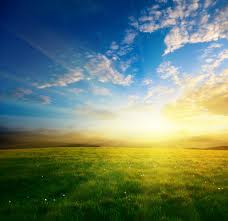 But Before us, on the other side of the chasm, was a beautiful field of green grass, with soft beams of light, resembling fine gold and silver. Nothing I had seen upon earth could compare in beauty and glory with this field then I remembered 1 Corinthians 2:9 But as it is written: "Eye has not seen, nor ear heard, Nor have entered into the heart of man The things which God has prepared for those who love Him."
But could we succeed in reaching it, was our anxious inquiry. For we knew should the cord break, we would perish. Again, in whispered anguish, the words were breathed, "What holds the cord?" Then we exclaimed: "Our only hope is to trust wholly to the cord. It has been our dependence all the difficult way. The words were then spoken:
"God holds the cord. We need not fear." These words were repeated by those behind us, accompanied with: He didn't say that your way would be easy trials, but they do come about only to make us strong, So that we will endure till the end of our journey, because our example comes from the one who paved the way for us all, on Calvary "He will not fail us now. He has brought us thus far by faith."
we then swung over the fearful abyss into the beautiful field beyond. Oh what a sense of relief and gratitude to God. We than heard voices that no man can number raised in triumphant. Praise to God! Praise to God!, "and there before me was a great multitude that no one could count, from every nation, tribe, people and language, standing before the throne and before the Lamb.
They were wearing white robes and were holding palm branches in their hands." My friends this was only a dream that Ms.White had in the eighteen hundreds, but my question to you today is, will you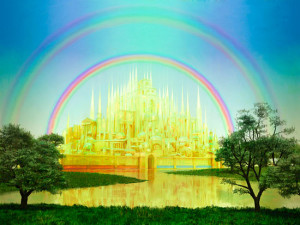 be among the redeemed that will stay focused and endure, through it all. And will you give it all up for the Master in order to live throughout eternity with Him.
Nothing on this earth is worth losing out on what God Has in store for those who will finish this race through faith, and endure till the end. In Phil. 3:7,8, Paul said: "But what things were gain to me, these I have counted loss for Christ.
But indeed I also count all things loss for the excellence of the knowledge of Christ Jesus my Lord, for whom I have suffered the loss of all things, and count them as rubbish, that I may gain Christ" 
and Jesus said, "Assuredly, I say to you, there is no one who has left house or brothers or sisters or father or mother or wife or children or lands, for My sake and the gospel's, who shall not receive a hundredfold now in this time houses and brothers and sisters and mothers and children and lands, with persecutions and in the age to come, eternal life" (Mark.10:29,30). Friends!! YOUR CHOICE YOUR DECISION!!
So my friends today. Stay focused, remain faithful, love one another and endure till the end and never forget to STUDY&PRAY