Aug. 28, 2015
"LORD DON'T MOVE THE MOUNTAIN, BUT GIVE ME STRENGTH TO CLIMB IT"
"Lord don't move the mountain, but give me strength to climb it. Please don't move that stumbling block, But lead me Lord around it, The way may not be easy, You didn't say that it would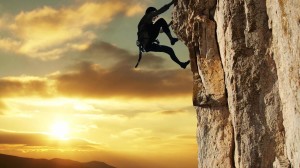 be. For when our tribulations get too light, We tend to stray from Thee." (Mahalia Jackson)
My friend, it is 2015 and some of God's children are just where we were ten years ago in our relationship with God and our faith has not increased to the point where we are totally dependent on Him. And if you can look back over your life and say with no reservation I am the same.
Then My friends, In heartfelt prayer and supplication we must stay on our knees and cry out to God "Lord don't move the mountain, but give me strength to climb it" and I must say with all honesty if you are seeking God's kingdom and are looking to cross over into the promise land one day soon and there are no mountains in your life, then your cry must be Lord take these iniquities that are keeping me from receiving all that heaven has to offer to prepare my life to be "safe to save."
In other words, self still controls our life, and we have not "been crucified with Christ because It is still self who lives within us not Christ. And the life that we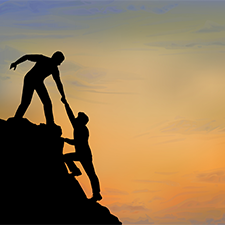 should be living we are not because of our flesh and a lack of "faith in the Son of God, who loved us and gave himself for us." Gal. 3:20 (Paraphrased)
My friends "How long will you falter between two opinions? If the Lord is God, follow Him; but if Baal, follow him." [Baal being the god of this world] 1 Kings 18:21 (NKJV) Satan has allowed the chaos of this world to take our attention off of where we should be on this journey God has placed us on.
We are paralyzed to what is happening and what we need to do be doing to get over that mountain in our life and to pull with us, our friends, family, love one's, neighbors, co-workers and a world whose spiritual compass continues to point towards this world where grace is gradually being removed only to be replaced with the chaos and confusion that Satan is creating.
So today, if there are mountains in your life, thank God, because those mountains strengthens our faith so that we are "steadfast, unmovable and always abounding" towards the things above and not the things of this world.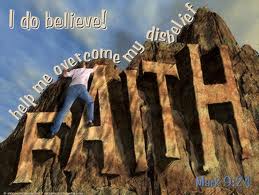 In addition the stronger we grow in faith the stronger we become. In addition, the closer we get to the promise land our faith, endurance and the power of God's word and Spirit will become the driving force that takes us over that final mountain as we enter God's kingdom and hear our Savior say, "Well done, good and faithful servant.
You have been faithful over a little; I will set you over much. Enter into the joy of your Master." Matthew 25:21 (ESV) My friends we are at the end of all prophecy, there is no time for compromise, our soul salvation depends on each of us staying focus.
Today we must move out in faith and give it all to the Master and soon we will enter that place "Eye has not seen, nor ear heard, Nor have entered into the heart of man The things which God has prepared for those who love Him." 1 Cor. 2:9 (NKJV)
My Friends, where there is no vision, the people perish…..Proverbs 29:18 (KJV)