April 26, 2016
MY FRIENDS, IT'S PERSONAL WHEN ALL ELSE FAILS JUST SING THESE SEVEN SONGS!!!!
"God sent His son, they called Him Jesus; He came to love, heal and forgive; He lived and died to buy my pardon, and now a empty grave proves my Savior lives! And because He lives life is worth the living!" And when  Life is easy, when I'm up on the mountain and I've got a peace of mind, sometimes things happen my friends, and thing change for the worse, and I lay exhausted on the field of Battle and life seems so uncertain, and the terrain is treacherous, deceptive unstable and insecure, in the valley.
But I don't lose faith but continue to endure, for I realize I am never alone For the God on the mountain, is still the God in the valley, so when things go wrong, he'll make them right even if  I don't hear that still small voice. But, let it be known I am still not going to serve the god of this world.
And I can say this because ever "since I met this blessed Savior, Since He cleansed and made me whole, I will never cease to praise His name, because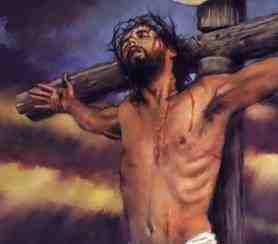 He touched me, Oh He touched me, And oh the joy that floods my soul! And now "my sin, oh, the bliss of this glorious thought! My sin, not in part but the whole, Is nailed to the cross, and I bear it no more because I believe in a hill called mount Calvary I believe whatever the cost and when time has surrendered and earth is no more I'll still cling to the old rugged cross.
And I believe that this life with its great mysteries will someday come to an end. But faith will conquer the darkness and death and will lead His faithful at last to my friend, Jesus Christ who was slain on the cross and has the power to change lives today, for He changed me completely, a new life is mine and that is why by the cross I will stay.
But, then at the threshold of the promise land, in my heart I felt the battle was still raging from within because not all prisoners of war had come home,  but I must say, these were battlefields of my own making, and then I heard that still small voice whisper to me that the war had been won and that the king of the ages Had fought all my battles for me and that victory was mine for the claiming and then I praised his name, because I was set free.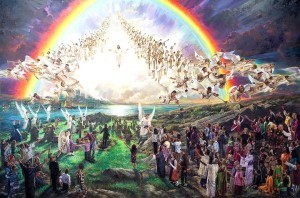 And at that moment, I look up, The King is coming!! I just heard the trumpet sounding and now his face I see, Praise God He's coming for me Happy faces line the hallway Those whose lives have been redeemed Broken homes that He has mended Those from prison He's set free, Little children and the aged Hand in hand stand all aglow, who were crippled broken ruined Clad in garments white as snow.
I can hear the chariots rumble I can see the marching throng And the flurry of God's trumpets spell the end of sin and wrong, Regal robes are now unfolding Heaven's grandstands all in place Heaven's choir is now assembled Start to sing Amazing Grace the King is coming, the King is coming, Praise God He's coming for me. (The Gaither Band, He Lives, God on the Mountain, He Touched Me, It is well with my soul, I Believe In A Hill Called Mount Calvary,The King Is Coming, It is finished)