Sep. 28,2013
WHAT WILL IT REALLY TAKE!!!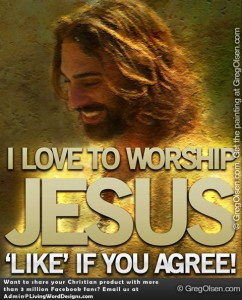 Today I ask myself? should my faith and my love for my Savior who died on a cross for my sins be measured by whether I like your photo, slogan or post on Social Media. Each Day each of us including myself, generate devotionals, e-mails, text messages, chain-letter, Conference calls, etc, etc,. The world is now flooded with a click and share mentality towards Salvation.
Believe me God cares about every aspect of our lives. Luke 12:7 tells us But the very hairs of your head are all numbered. Do not fear therefore; you are of more value than many sparrows. also in Ps. 139:15-16 it says "My frame was not hidden from you when I was made in the secret place, when I was woven together in the depths of the earth.
Your eyes saw my unformed body; all the days ordained for me were written in your book before one of them came to be."  But As A Child of God I don't believe the SOCIAL MEDIA is A high priority of my Savior if it does not involves our Salvation.
I really do Love Jesus more then life itself. So I ask myself, in creating A click and share, if you love Jesus, or a Chain-letter, would that really allow A fallen world that desperately needs the transforming power of God's Spirit to know Him. Or does it just allow me to have a hands off approach to Christ Mandate to me when He tells His Children to.
"Go into all the world and preach the gospel." My thoughts are, anything less, would Cheapen that command. "According to the first chapter of Acts, 120 believers met in the upper room on the day of Pentecost. This is a ratio of 1 Christian to approximately every 500,000 to 580,000 people in the empire.
From a human standpoint, Jesus' command to preach the gospel to the world seemed unthinkable. The Christian church exploded in growth. Tens of thousands were converted. The message of Jesus' love was carried to the remotest parts of the empire. It reveals that in a few generations Christianity had invaded nearly every level of society even in the remote provinces. "(Mark Finley)
And this was actually done without the Social Media. Millions died so a world could receive the good news of Christ Salvation Persecution of the Christians started with the Emperor Nero in the summer AD 64. At that time Christians were a small underground group among the slaves and poor people, making them the perfect scapegoat.
Nero blamed the fire of Rome on them, and ordered all Christians to be persecuted. Christians were thrown to wild beasts and eaten alive in arenas throughout the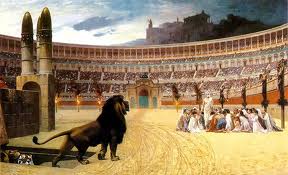 empire, others were crucified. The more they killed the more the church grew. So Satan laid his plans to war more successfully against the government of God by planting his banner in the Christian church.
The great adversary now endeavored to gain by artifice what he had failed to secure by force. Persecution ceased, and in its stead were substituted the dangerous allurements of temporal prosperity and worldly honor. Idolaters were led to receive a part of the Christian faith, while they rejected other essential truths.
They professed to accept Jesus as the Son of God and to believe in His death and resurrection, but they had no conviction of sin and felt no need of repentance or of a change of heart. With some concessions on their part they proposed that Christians should make concessions, that all might unite on the platform of belief in Christ.
Most Christians consented to lower their standard, A union was then formed between Christianity and paganism. But thank God many Christians chose to die before they would deny their Lord. So the millions who did so came to be called MARTYRS, which means "WITNESSES."
Matt. 24:9-14 says For……….Then you will be handed over to be persecuted and put to death, and you will be hated by all nations because of me. ….but the one who stands firm to the end will be saved. And this gospel of the kingdom will be preached in the whole world as a testimony to all nations, and then the end will come."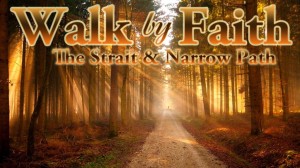 That verse did not say all I would have to do is Click and share, or pass on A chain letter on to the next person, to show my love for Christ. It told me I will have to endure something that I know deep down in my heart I am really not prepared for right now.  So How do I prepare myself and others to Finish this race and endure until the end.
Well first Matthew tells us in Matt. 25:13 "Therefore keep watch, because you do not know the day or the hour." Next in John 7:38-39 it says "Whoever believes in me, as Scripture has said, rivers of living water will flow from within them. By this he meant the Spirit," Then in
Romans 10:17  it says "So faith comes from hearing, and hearing through the word of Christ." then in 1 Thess. 5:17 it tells me to"pray without ceasing;" Keep watch or stay FOCUS , being convicted of Gods Spirit, keep the faith through Gods word, and never stop praying. So my friends that is what it will take to endure till the end.
And once you have allowed Christ to transform your Character you will be convicted to tell others what Christ has done for you, as you spread the good news of Christ soon return. My friends The final Chapter of the Controversy between GOOD and EVIL Is being written Right now the climax will be at Jesus Christ Second Coming to take His faithful Children Home.
So friends stay focused, remain faithful, love one another and endure till the end and never forget to STUDY&PRAY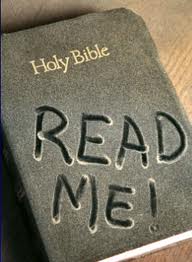 .