Feb. 1, 2014
"IF YOU BELIEVE, YOU WILL SEE THE GLORY OF GOD"
John 11:37-40 But some of them said, "Could not he who opened the eyes of the blind man have kept this man from dying?"Jesus, once more deeply moved, came to the tomb. It was a cave with a stone laid across the entrance. "Take away the stone," he said. "But, Lord," said Martha, the sister of the dead man, "by this time there is a bad odor, for he has been there four days." Then Jesus said, "Did I not tell you that IF YOU BELIEVE, YOU WILL SEE THE GLORY OF GOD?"
My friends the scene is at the house of Christ friends Mary and Martha whose brother during Christ delay in getting to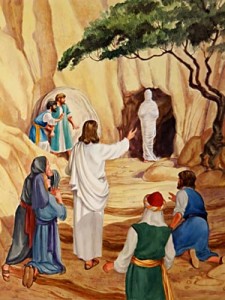 their house had died and now four days had passed since his death. "When Martha heard that Jesus was coming, she went out to meet him, but Mary stayed at home.
"Lord," Martha said to Jesus, "if you had been here, my brother would not have died. BUT I KNOW THAT EVEN NOW GOD WILL GIVE YOU WHATEVER YOU ASK" then Jesus said to her, "Your brother will rise again." Martha answered, "I know he will rise again in the resurrection at the last day."
Jesus said to her, "I am the resurrection and the life. THE ONE WHO BELIEVES IN ME WILL LIVE, even though they die; and whoever lives by believing in me will never die. Do you believe this?" "Yes, Lord," she replied, "I believe that you are the Messiah, the Son of God, who is to come into the world."
My friends where I need you to focus on today is the enormous power that we have which is in the source of all power which is in Jesus Christ our advocate who has designated His POINT MAN the Holy spirit to take lead for his Fathers children here on earth.
I Looked up the meaning of  POINT MAN. Webster tells us, it is a soldier who walks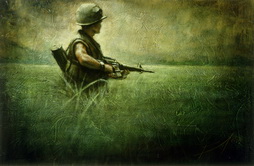 at the front of an infantry patrol in combat. My friends we are in combat, and the battle continues to rage on each day, and what is at stake is our Soul Salvation.
But my friends Christ tells each of us like he told Mary, and Martha "IF YOU BELIEVE, YOU WILL SEE THE GLORY OF GOD" but like the unbelieving mourners, Satan is telling you, yes Christ was able to rescue others from my grasp, but you have been Spiritually dead way to long for Him to help you. It just an't happening.
But my friends Christ tells us to "Humble yourselves, therefore, under the mighty hand of God so that at the proper time he may exalt you, casting all your anxieties on him, because he cares for you." 1 Peter 5:6-7 "for the Lord your God goes with you; he will never leave you nor forsake you."
But only "IF YOU BELIEVE, YOU WILL SEE THE GLORY OF GOD." But first you must give it all to the Master. Everything must be on the table, nothing can be held back, not our Heart, Body, time, money, or talents, and if you give it all to Christ, then He will decide how it is to be used for His Glory and Honor.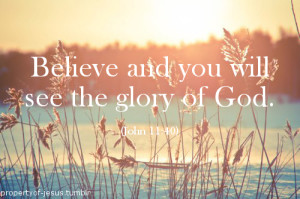 Remember my friends God's Word is like a mirror to our lives. but we must realize as we look into that mirror today, how far short we have fallen from the glory and purity of God and of the high standard set for us, which is the cross.
The believer who longs for a personal revival clings to what can be personally painful and difficult in the cross of Christ. Carrying a cross "confronts ungodly attitudes, carnal living, and selfish motives." because It keeps us in line with what Jesus want's to do in our lives.
The secret of true obedience is having a close and personal relationship with God. Any other attempts to do otherwise will only amount to failure. We must have total access to the abiding fellowship and love of Jesus Christ, and that only comes through continuously Studying His Word while allowing God's Spirit to completely transform our Character into the Character of Christ. But my friends it can only happen "IF YOU BELIEVE, YOU WILL SEE THE GLORY OF GOD"
So my friends today. Stay focused, remain faithful, love one another and endure till the end and never forget to STUDY&PRAY