May 22, 2016
MY FRIENDS, IS GOD THE SAME YESTERDAY AND TODAY AND WILL HE BE THE SAME TOMORROW?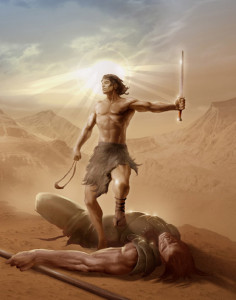 In 1 Corinthians 1:18, the Bible tells us that the cross is foolishness to those who are perishing, but the power of God to [a faithful few who continually endure, along with a passion to serve]" 1 Corinthians 1:18 (KJV). Friends, I need you to understand that God is not only a God from Genesis to revelation, but is a God of yesterday today and tomorrow in each of our lives personally if we believe.
Yesterday, we could have been a David telling Goliath; "we only need one weapon against the forces of evil and it is the name of the Lord. And He will deliver His faithful because "He never slumbers nor sleeps" therefore, He will never forsake us,  and we can tell the world that the Lord does not save with sword and spear, for the battle is the Lord's. [And with prayer and supplication, through His Spirit victory is ours, says the Lord]……. "1 Sam. 45-46 (NKJV) Ps. 121:4 (KJV)
And today my friends, our faith may have been shaken because of various situation or circumstances Satan has brought into our life. But like the three
Hebrew boys who tells king Nebuchadnezzar " God will deliver us from the burning fiery furnace or the trials and tribulations of this world,……..But if not, let it be known to [the world],….that we will not serve another god, or put the things of this world before the true God. And because our Faith may be shaken but never compromised, today, with no reservation we know the God we serve, will always be our refuge, and no evil shall ever befall us….For He shall give His angels charge over our lives. Daniel 3:17-24 (NKJV) Ps 91:9-11 (NKJV)
And tomorrow we may have to become a Daniel who because of His faith and the God He served was persecuted and then cast into the den of lions….And because of Daniel's faith, the same king who threw Daniel in the lions den is now praying and fasting and making supplications before God to deliver Daniel from the lions den. And He did. My friends God changes lives when others witness what God will do for us.
And this same God, if  we will serve continually, will deliver us from that roaring lion Satan, who will not be able to hurt us because we are God's children.  My friends we serve an on time God who just yesterday we proved to the world that the battle is not ours but the Lord's, and today the same forces of evil that tried to prevail didn't because our faith remained steadfast as we told all who would listen; even if our God does not deliver us right away, we will let it be known to everyone that we will not serve other gods nor the things of this world.
And tomorrow because we have continued to hold on to the promises of God and His will for our lives we now tell our story about that mountain we have asked to 'Move from here to there,' and it did because nothing is impossible for us if we serve "a risen Savior." And one day soon, we will be called up to meet Christ in the clouds and Christ will personally  say to His faithful who endured.
Well done, good and faithful servant; you were faithful over a few things yesterday and today and now tomorrow and forever Enter into this place"Eye has not seen, nor ear heard, Nor have entered into the heart of man The things which God has prepared for those who love Him"1 Cor. 2:9 (NKJV)